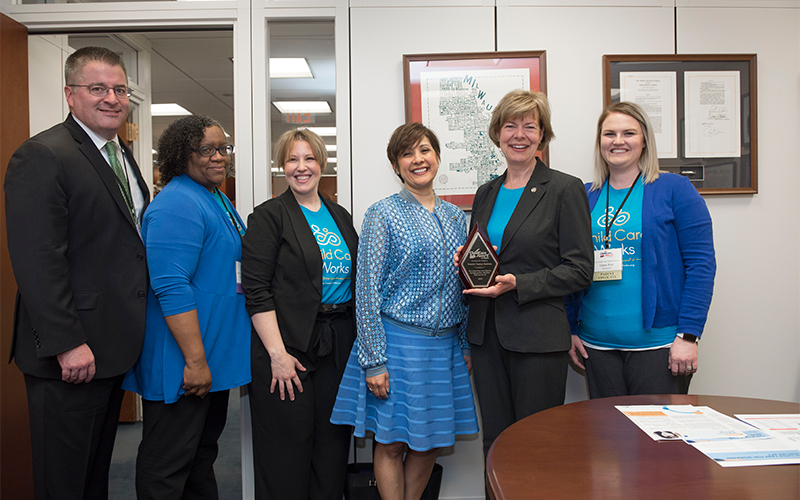 Wendy Nycz is a family advocate from Wisconsin who shared her experience after attending the 2019 Child Care Works Summit.

Earlier this month, Catey Rice and I had the honor of attending the 2019 Child Care Works Summit alongside 22 other Family Advocates and about 150 child care resource and referral professionals from 32 states, plus D.C. I was selected to attend because as a mother of 3 teens and a toddler, I have been involved in the childcare world for many years. Not only as a parent, but also as a professional. I currently live in the small town of Antigo, Wisconsin where my husband and I are both self employed and work from home in order to also care for our toddler. I made the decision to leave the professional workforce not long after my littlest one was born due to the cost and lack of quality care in our area.
Day 1 – Advocacy Training and Networking
The first day of the Summit was a day of networking and training. This day was incredibly eye-opening as we shared our personal stories. The heartbreak, strength, and love that is poured into this advocacy work is unbelievable. My reason WHY grew as the day moved on. I wanted to fight for the babies, children, and parents who have been deeply scarred and entirely failed in a lacking system. I learned so much more than I expected to during this first day. It gave me the courage, drive, and knowledge to move forward without fear as we prepared for the Day on the Hill. I felt empowered!!!
Day 2 – Day on the Hill
The Day on the Hill was absolutely life-changing. From start to finish. We had been prepped well on how to tell our stories and were paired with staff members from Child Care Aware® of America. Our staff members were knowledgeable and supportive, which added another layer of security to our work. We had meetings with several people throughout the day, but the most exciting meeting was with Senator Tammy Baldwin. We were able to take part in an award ceremony for her incredible work in supporting children and families. She also sat with us to listen to our personal stories. How rewarding for all of us! I was nervous at the start of the day, but that quickly dissipated as the excitement and feeling of accomplishment set in.
Our 2019 ask was for a $5 billion increase to Child Care and Development Block Grant (CCDBG) funding to ensure more children and families gain access to high-quality, affordable, and safe child care.
You Can Make a Difference Too!
Though the experience was incredible, you don't have to travel to Washington, D.C. or attend seminars and pound the hill to make a difference, though I highly recommend that given the opportunity you grab it! I encourage you to follow organizations like Child Care Aware of America and become educated on what is happening in your world! You can start by seeking out an advocacy group, or simply by calling your legislators and telling them what you need! Every story makes a difference. I encourage you to read more stories like mine and I leave you with a call to action: be brave and know that you have the right, and the obligation, to be heard.
If Wendy's story inspired you, Child Care Aware® of America invites you to join the movement for quality, affordable child care!