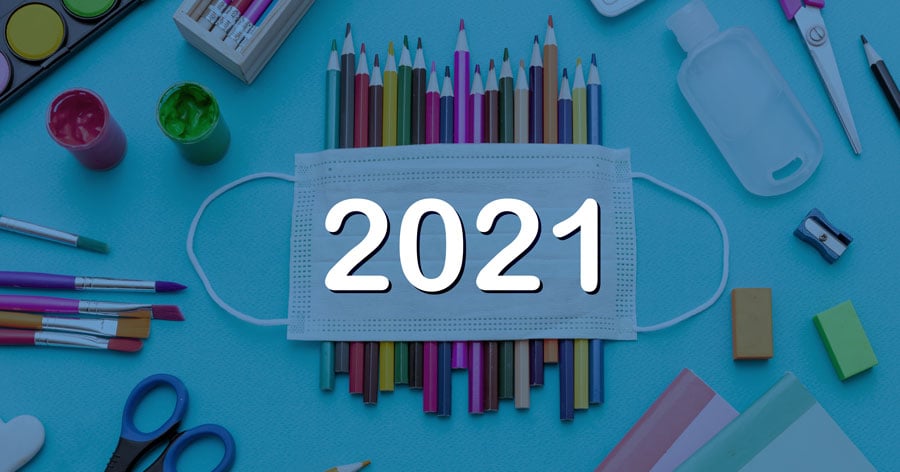 At Child Care Aware® of America, we have seen child care become front page news. We have spoken with families, like the Aronoffs, struggling to access child care as providers close their doors. We have listened to providers, like Shaun Linton in Newark, Ohio, whose center has taken extraordinary measures to continue operating safely, despite a reduction in income.  
What we have heard and continue to hear from providers and families is their demands for change. The time is ripe for us to make even bigger strides than previously imagined to achieve a more equitable, affordable and high-quality child care system. As we launch into the new year, I am excited to share with you how we plan to accomplish this.
Expanding Comprehensive Child Care Services
2020 was a year unlike any other. Our nation grappled with a pandemic, faced hard realities about racial injustice, and suffered in the wake of natural disasters, like the numerous hurricanes and forest fires that affected so many communities this year.
CCAoA is proud to continue to develop resources and consumer information that are responsive, user-friendly and relevant for the times we are in, and for the road ahead.
Building upon those resources, we will be creating new materials and hosting virtual technical assistance trainings to equip our Child Care Resource and Referral agencies (CCR&Rs), and child care professionals to excel and thrive in their work serving children.
We have always worked to support the professional development and best practices of leaders in the child care sector. It is our mission to enhance the skills, knowledge and practices of the child care professionals we serve, and we look forward to bringing cutting-edge resources that not only respond to the needs of our members today but anticipate what they will need post-pandemic.
Child Care At the Nexus
The past year has made it clear that child care is an "everyone" issue: the pandemic has shown just how much we rely on child care to enable working parents to support their families.
Employers have experienced their employees dropping out of the workforce due to the lack of child care, and this burden has impacted working mothers the most. Families have struggled to patch together child care solutions, and juggle parents' work with their children's needs to learn remotely. And the economy at large has suffered because of it.
We can no longer pretend that child care exists in a vacuum. In fact, child care is an integral part of society.
This year, we are excited to lead conversations with other sectors and industries, as we work together to transform the child care system. Our partners recognize the importance of the child care sector because they have seen it impact their work. Our partners also know that quality early child care and education, grounded in family engagement and the best of what the science tells us about child development, contributes significantly to the growth of the whole child during a critical period. These understandings and shared values need to be further amplified so that we can make an even bigger change for our nation's children and families.
Together, I believe we will advance meaningful change for the child care sector and ensure that it is prioritized in our society.
Advancing Real Policy Change for Child Care
With a new Administration and new policymakers at all levels of government comes new opportunities. Identifying viable and equitable solutions is difficult and it happens when you not only listen to each other, but also commit to do the hard work together.
That's why CCAoA held virtual roundtable conversations in the fall of 2020. We gathered child care providers, parents, employers, policymakers and changemakers to answer one big question: If we were to build a better child care system, what would it look like and how would we do it?
From those conversations, and the rich data we were able to access through our networks, we developed a set of policy recommendations that will move the child care system towards a place of equity, inclusions, affordability and excellence.
These recommendations are just the beginning of our work in 2021, and we hope you will join us in the endeavor. It will take all our voices to realize change in a meaningful way.
This Is the Year for Equitable Child Care
The child care system needs everyone it impacts — families, employers, providers, philanthropists, CCR&Rs and advocates — to raise a unified voice and to create the change we have long desired. I am resolute because the work ahead means not only repairing, but re-envisioning a critical part of our society — child care.
I urge you to join in this ambitious and difficult journey. Connect with us to receive updates about how you can collaborate with us to improve the child care system so it works for everyone. Together, we can transform child care.