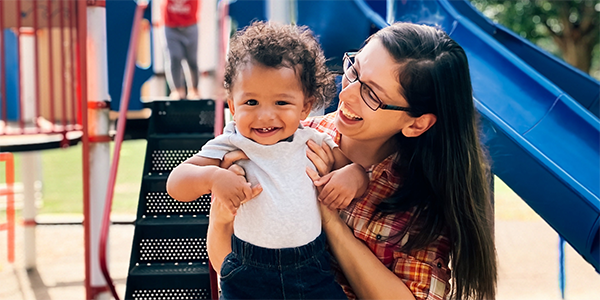 As we take stock of this year-like-no-other, Child Care Aware® of America (CCAoA) sees a glimmer of hope in all of the destruction and reflection wrought by COVID-19 and yet another racial reckoning for our nation. This glimmer of hope is the chance to completely rebuild our child care system. Today, CCAoA releases bold new ideas to help policymakers, advocates, parents, providers and employers create an equitable, transformed child care system in 2021 and beyond.
People may not be aware of child care issues until they have to face the trials of finding and affording care, or until an employee is unable to make a deadline or get to work because of a child care program closure. CCAoA would like to change that. It is our belief that child care impacts everyone.
Child care is not just blocks and bibs. It is not just a place for children to stay during the work day. Child care is brain food for infants, toddlers and preschoolers and critical enrichment for school-agers, and it is also critical infrastructure that helps the American economy run. Now it is time for everyone to give child care — and the dedicated, underpaid educators who provide that care and education — the respect and financial support it deserves.
So, CCAoA decided to think ambitiously about how we might take the lessons from 2020 and build a better child care system. A system that is affordable, accessible, provides children the healthy start they need, and one that is actively anti-racist. And because the COVID-19 pandemic worsened our nation's already precipitous decline of accessible child care, it is in the news. Child care is having a moment.  
The Together Toward Transformation Project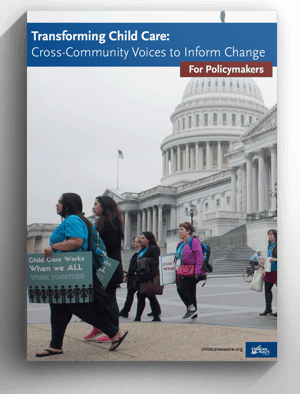 In order to pursue this opportunity, CCAoA began its Together Toward Transformation project. The central question of this project was: If we were to build a better child care system, what would it look like and how would we do it? Such a daunting question, however, could not be answered in a vacuum. Thus, CCAoA deliberately sought out input from multiple groups touched by child care, and who had a stake in its success.  
Throughout the fall, we held five virtual child care roundtables with resource and referral agencies (CCR&Rs), parents, employers, child care providers and CCAoA's national thought partners. We heard from individuals in 46 states and the District of Columbia and with a wide variety of lived experiences. We talked to families with infants, toddlers, school-aged children, children with special needs, families paying out of pocket for child care and families receiving child care subsidies. We also talked to providers in large and small centers, in home-based child care, religious not-for-profit child care, group family day and night care, school aged child care and more. We talked to employers with thousands of employees and companies with less than 200 employees. We convened almost 40 individuals from our national thought partner organizations. We also brought the ideas developed during these fall roundtables to our own member leadership, during our Together Towards Transformation Institute.  
Today, we release the results of these conversations and our analysis of what we learned from them. Our Transforming Child Care: Cross-Community Voices to Inform Change white papers are tailored to six different audiences:
Parents
Child Care Providers/Educators
Employers
Philanthropists
Policymakers
Child Care Resource and Referral agencies
The paper speaks to the differing needs and perspectives of these stakeholder groups. We urge you to check out these findings. The child care system needs everyone it impacts — families, employers, providers, philanthropists, CCR&Rs and advocates — to raise their voices now in a unified effort to create the change we have long desired.
Please join CCAoA in this fight. We look forward to working with you to take child care in a bold new direction!