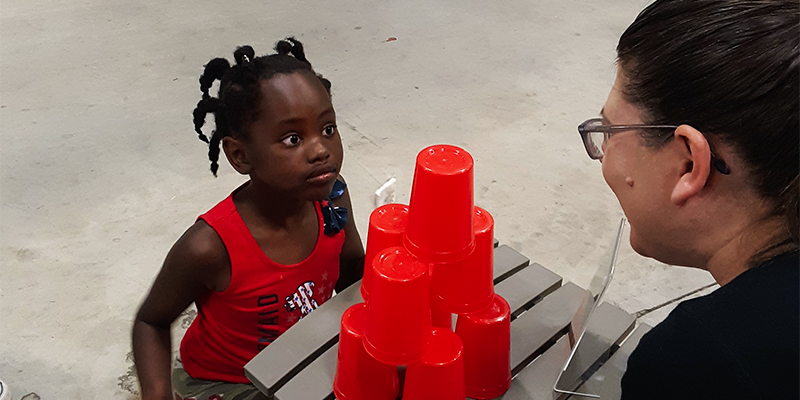 Vroom provides interactive tools and resources that highlight the science behind early brain development, showing parents how they can turn everyday activities like bath time and meal time into opportunities that build their children's brains. The Vroom Partnership at Child Care Aware® of America is made up of Child Care Resource and Referral Agencies who educate and provide Vroom resources to families, providers, and organizations in their communities so they too understand the importance of brain development during the first five years of life. Learn more about Vroom here.
Child Care Aware® of North Dakota, a program of Lutheran Social Services of North Dakota is the state entity providing child care resource and referral in North Dakota. They have offices in five hub cities and a handful of teleworking employees. Child Care Aware® of North Dakota assists families in their search for and understanding of quality child care, builds the knowledge and skills of early childhood practitioners through professional learning services and coaching, and supports communities in developing innovative strategies to expand the capacity of care to meet families' needs.
The first five years of your child's life set the foundation for all future learning. Are you willing to share the responsibility of care for your child with a child care provider? Choosing child care is an important decision. Finding the right care for your child requires an investment of time.
Child Care Aware® of North Dakota's team of child care data and referral specialists help families evaluate care options, learn about child care licensing, develop an understanding of child care services and engage parents as their child's first teacher.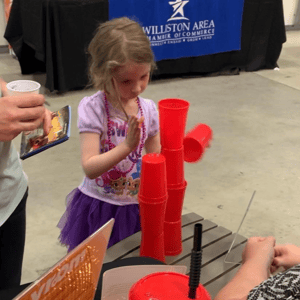 At recent community events across the state we had the opportunity to promote referral and consumer education services and incorporate Vroom. Adults and children visiting our booth are encouraged to explore Vroom in Action. We display the materials and tip cards for a sock sorting activity, a mirror reflection activity, and a cup stacking activity. Cup stacking is by far the most popular as children return throughout events to stack the cups. It's so popular that we have purchased more cups for interactive event settings. We also enlarged several other tip cards and attached them to the sock sorting basket so adults could see multiple ways to use the same materials. It's fun to watch adults see how easy it is to use everyday materials to help their child(ren) learn. These activities have proved to be a great way to support parents and families as their child's first teacher and let them know they already have what it takes.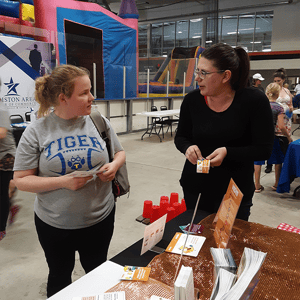 The message is taken to heart. It's Williston's Kids Day Out, an annual event smack dab in the Bakken oil play. Hundreds of families have come to take part. Child Care Aware® of North Dakota staff are set up and ready to promote our services and Vroom.
The first adults that our staff engage with pick up a sticker and toss it in their goodie bag along with all the materials they are picking up at other booths. One observant staff spots the trend and makes a mid-morning alteration to her approach.
She tells the parent "just by being at this event with your child(ren), you are showing how much you care and usually kids get the stickers". She peels the backing away as she hands the sticker to the parent telling them "but, today I have a sticker just for you because you already have what it takes to help your child(ren) learn".
The adults are so touched that many of them bow their heads and touch their hearts when they hear this. The stickers are worn as a badge of honor. We hope they are reminded once again at the end of the day when they peel the sticker off and put their shirt in the laundry basket.
Speaking of laundry, did you know that Vroom has brainy ideas to help young children learn using the clothes your family wears? Here are just a few: