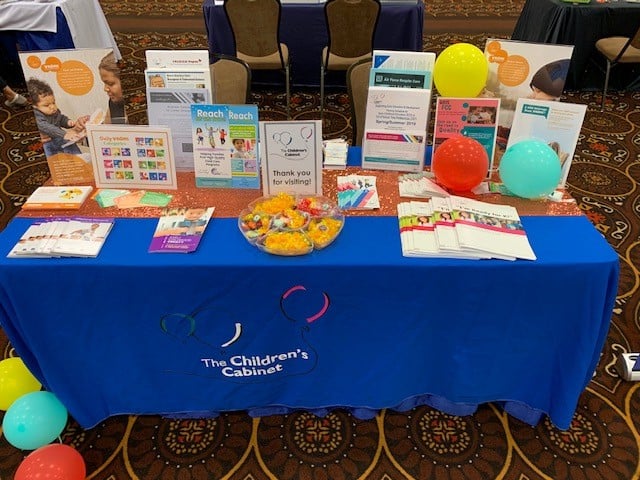 Since 1985, The Children's Cabinet's mission has been to keep children safe and families together by providing services and resources that address unmet needs through a unique and effective cooperative effort between the private sector and public agencies in Nevada. By offering a wide range of community programs, the goal of the agency's founders was to create a lasting public/private partnership to address the needs of children and their families in our community.
Being a Vroom Ambassador has been beneficial to our staff, child care providers and parents as well as to our 50 plus community partners who are also sharing Vroom messaging and materials with their clients.
What's Vroom?
Vroom provides interactive tools and resources that highlight the science behind early brain development, showing parents how they can turn everyday activities like bath time and meal time into opportunities that build their children's brains. The Vroom Partnership at Child Care Aware® of America is made up of Child Care Resource and Referral (CCR&R) agencies who educate and provide Vroom resources to families, providers, and organizations in their communities so they too understand the importance of brain development during the first five years of life. Learn more about Vroom here.
Some of the ways we have embedded Vroom into our programs at The Children's Cabinet are:
including the Brain Story and Brain Building Basics Flyers in subsidy folders which are given to all new clients at intake;
mailing the Vroom App cards to clients with their subsidy reapplication;
giving the Vroom Tip Cards, Bookmarks, and New Baby Cards during R&R and subsidy appointments and to parents and child care providers during Vroom Trainings and community events;
distributing Vroom Bedtime Tips during home visiting services and sharing tip sheets during parenting classes as well.
Additionally, our Quality Rating Improvement System (QRIS) Coaches, who work with child care providers to help them improve quality have shared Vroom materials with over 200 of their coaching sites.
Vroom Highlights from The Children's Cabinet
We held a "Vroom Kickoff Celebration" during our agency wide staff meeting for The Children's Cabinet Staff where we provided a Vroom presentation and we set up a Vroom table, complete with
Vroom outreach materials and a sparkly, orange tablecloth and orange balloons! We also purchased orange Vroom t-shirts for all staff to wear while they are out in the community promoting Vroom.
Listed below are additional examples of ways our agency integrated Vroom brain building resources and tools into outreach opportunities.
At the NevAEYC State Conference, The Children's Cabinet had a dazzling Vroom table and we were able to share Vroom materials will over 200 early childhood providers.
The Children's Cabinet trained a cohort of 18 community trainers on Mind in the Making (MITM) to deepen our knowledge of the science behind Vroom and to build a MITM trainer cadre and have met in teams to plan individualized outreach to community partners, families, and ECE providers.
Our agency highlighted Vroom on a national stage during the National Family & Community Engagement Conference held in Reno, NV. The Children's Cabinet participated in a program showcase of the region's Grade Level Reading Coalition.
Aligning to a Larger Plan: Nevada's Early Childhood Advisory Council
Vroom and Mind in the Making (MITM) Implementation Planning
The Children's Cabinet is supporting the Early Childhood Advisory Council's (ECAC) Strategic Plan Objective to expand opportunities for families to gain knowledge on and support their children's development. Vroom and MITM are primary strategies to meet this objective. The Children's Cabinet is aligning our Vroom and MITM efforts to the ECAC plan in four primary ways:
Provide 5,000 parents, 5,000 early childhood education professionals and 50 community partners information on Vroom in 2019. The Cabinet is embedding Vroom materials distribution and key talking points in all programming (home visiting, subsidy case management, Resource & Referral consultations, Family Friend and Neighbor enrollment and support, licensed provide training, parenting workshops, pre-K wraparound services, QRIS coaching, community engagement, and Early Child Support Network substitute services).
Lead the promotion and organization of the Mind in the Making Institute to prepare individuals to be lead trainers, responsible for providing MITM training and Vroom support within their organizations and networks.
Provide a one-hour Intro to Mind in the Making training on early childhood brain science as an introduction to MITM/Vroom.
Provide a one-hour Vroom Applications program to help participating organizations integrate Vroom materials into their ongoing work.
The Children's Cabinet is honored to be a Vroom ambassador and this role has helped position the agency to be a key strategic partner in the state's larger early childhood system plan. We share the vision of the ECAC: "Nevada's children will be safe, healthy, and thriving during the first eight years of life, and the system will support children and families in achieving their full potential." Vroom and MITM will play a primary role in achieving this vision by increasing parents' and other primary caregivers' understanding of their critical role as "brain builders" and encourage them as "they already have what it takes."