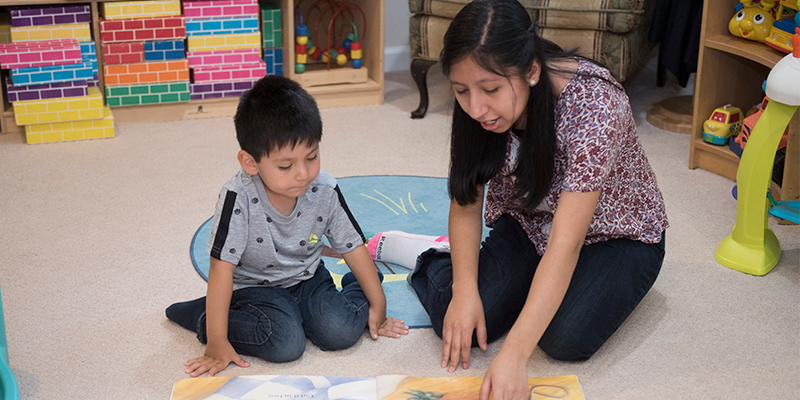 Child Care Aware of Kansas (CCAKS) is the statewide administrator of the Child Care Resource and Referral network in Kansas. As a managing state agency we are proud to serve 105 counties, ranging from frontier to urban populations, alongside our partnering agencies: Child Start, The Family Conservancy and Child Care Aware of Eastern Kansas. Our aim is to ensure families across Kansas have access to affordable high quality child care, support professional development for early learning staff and advocate for positive changes to impact the lives of children and families. Our partnership with Vroom has given us the opportunity to strengthen our initiatives by supporting early learning and engagement for families, providers and communities.
What's Vroom?
Vroom provides interactive tools and resources that highlight the science behind early brain development, showing parents how they can turn everyday activities like bath time and meal time into opportunities that build their children's brains. The Vroom Partnership at Child Care Aware® of America is made up of Child Care Resource and Referral (CCR&R) agencies who educate and provide Vroom resources to families, providers, and organizations in their communities so they too understand the importance of brain development during the first five years of life. Learn more about Vroom here.
How We Use Vroom
The first step in supporting our goal of strengthening our family engagement with Vroom was to develop an intentional plan to distribute Vroom information and materials to targeted groups within our network. In addition, we created a data collection plan and utilized a data system that would be easily administered and used among Child Care Resource and Referral professionals. This allowed us to gather informative data to guide outreach efforts along with the feedback we received from our partners and the community.
We incorporate Vroom into programs reaching families and child care providers. Our family engagement efforts include integrating Vroom consumer education materials in referral packets, family newsletters, Parent Cafes and family engagement events. We share Vroom with providers during training events, provider newsletters and coaching sessions. Vroom has made an impact in a variety of other CCAKS programs!
Highlights of CCAKS Vroom outreach efforts include:
Developing two "brain building" consumer education resources for both families and child care providers
Sharing Vroom science in Kansas Child magazine
Incorporating Vroom into our early childhood professional development trainings on brain development
Posting monthly Vroom tips and videos on our Social Media pages
Partnering with child care providers in the Links to Quality program to share Vroom tips and ideas for family engagement
A highlight of our outreach was hearing feedback from child care programs in the Links to Quality program. Providers shared they were encouraged by having resources to support family engagement. After working alongside CCAKS Links to Quality Community Consultants with the Vroom Launch Kits the providers reported they were starting program parent meetings, sharing Vroom tips and videos on their program's social media pages, and utilizing Vroom tips in their day-to-day activities.
Vroom has closely aligned with CCAKS efforts to positively impact the lives of children and families, as well as to support professional development for early learning staff. We were able to enhance a variety of our programs for families and providers by helping instill the Vroom belief "You already have what it takes to become a brain builder." This message will continue to impact Child Care Aware of Kansas and our community as we continue to lead projects that improve the quality of child care, support trainings for child care professionals, increase family awareness and advocate for early learning initiatives in Kansas.
Child Care Aware of Kansas partnered with Vroom and Kansas Department for Children and Families to create consumer education materials for families and child care providers. These are distributed through our Parent Resource Center, monthly newsletters and our consumer education catalog for community partners.