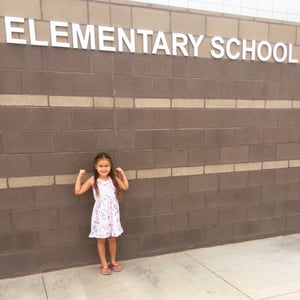 It hardly seems possible that we are in the midst of transitioning from preschool to kindergarten with our oldest child. How did that curious little infant we had five years ago move so quickly through toddlerhood and preschool?
Yet, we are rapidly approaching the first day of kindergarten and a host of emotions that come along with that. Our daughter has drawn maps of her bike route to school, has woken up early to time her route on her bike, has practiced writing letters to friends who she will be leaving behind at preschool, and has carefully chosen her backpack, pencils, markers, and other school supplies.
But like most parents, we have the usual concerns about whether or not the teacher will be a good fit for our child, if our daughter will make meaningful friendships, and the looming concern over the rigorous academic expectations that are now a part of the kindergarten curriculum. But with those concerns also comes excitement; excitement over shopping for school supplies, finding the perfect backpack and lunch box, practicing the bike route we will take to school, field trips, and, of course, the continued love of learning new things.
Then there are the goodbyes. The sadness we feel as we close the chapter of preschool, where her love of learning flourished, her personality developed, and beautiful friendships were made. A place where we not only felt supported and understood as parents but also where she learned to collaborate and problem solve with peers, articulate her feelings to others, and share in the deeply connected culture that the preschool setting so uniquely cultivates.
Through all of this anxiety of closing the preschool chapter of her life and moving on to kindergarten, there is one thing I know for sure—she is going to be successful. The experiences she has had in preschool have prepared her not only for academic challenges she will soon be facing, but also equipped her with the emotional intelligence to be able to manage her feelings and articulate those to others.
Research shows that high-quality preschool has a positive influence on school readiness for children, and my daughter demonstrates her kinder readiness every day. I see it through her interactions with adults and other children, in the creative way she goes about solving problems, and with her eagerness to take on new challenges. The system of support she has received over the years have provided her with the foundation necessary to thrive in a new environment, with new friends, and new expectations. But, most important of all, she talks about kindergarten with both excitement and unwavering confidence. In all honesty, she is more ready for kindergarten than I am.
Have a story like Amber's to share? We invite you to share that here. Interested in reading more stories from parents like Amber? Visit our Family Voices page.