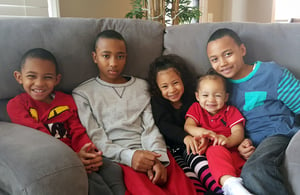 We are a veteran family. When I was active duty, thanks to the services offered through the military child care system, my children experienced great child care. However, our family experienced difficulty when we separated from the military and I left my first husband due to domestic violence. I became a single parent with three children under the age of six years old, who needed child care. I found myself struggling to make ends meet.

I worked full time, had three children in three different child care facilities, and went to school full time. I met my second husband, a retired veteran with three children, and we soon had two more children together, making us a beautiful family of 10!
Our child care costs were through the roof! Most of our combined family income was going toward child care, and with the 1.5 hour commute to and from work, we didn't have much time to spend together as a family. Something had to give.
I had just given birth to our youngest child and was on family leave when my husband and I decided it was time I stop working full time and establish a home-based child care facility. We started our child care business with the money out of our pockets, which was challenging; however when you are passionate about something, you find a way to make it work. Our goal is to provide high-quality care that exceeds standards at a reasonable cost to parents.
After two years, we are now a licensed facility with three employees. I work a part-time job, in addition to managing our child care business, because once we cover our costs for the child care facility there is nothing left, and we still have five children to put through college.
I stumbled into child care advocacy through Child Care Aware® of America's invitation to become a family advocate. So many families struggle with finding high-quality, affordable child care, and I realized that I can help offer a voice for them. I've had the opportunity to share my story with members of Congress and Maryland state senators. It's been a great experience.
As an advocate, I am passionate about changing the stigma people have about child care providers. We are not glorified babysitters. Essentially, we are partnering with parents in supporting their children's care for sometimes up to 12 hours a day. It is such a huge and important job. We deserve to be seen as an actual occupation that is worthy of a living wage.
I also believe that every child should have the right to quality child care no matter where they live or what their parents can afford. A family should never have to decide between the safety of their children and keeping the lights on. I've been there, and it's simply not right.
---
Melissa Hudson, is a mother of eight, child care provider and family advocate.
Melissa is making a difference in the lives of children and families every day. We need more advocates like Melissa who are making child care accessible to all parents. When you support Child Care Aware® of America, it's an investment in America's future. Your donation supports parent and family advocates like Melissa, and our public policy and advocacy efforts toward affordable, high-quality child care for all.