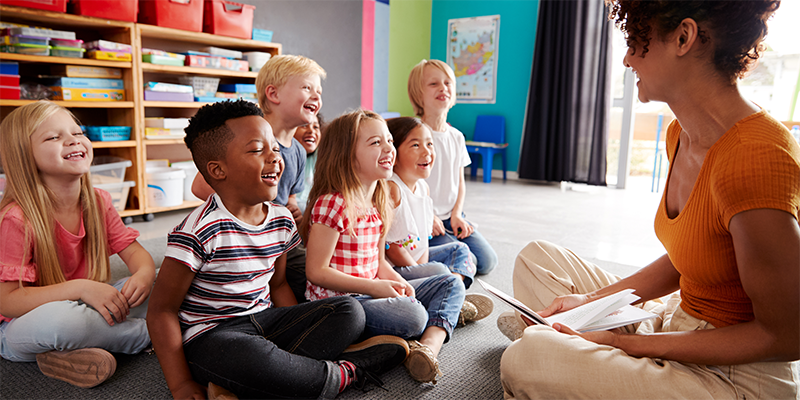 The health status of the early care and education workforce in the USA: A scoping review of evidence and current practice
Lessard, L.M., Wilkins, K., Rose-Malm, J., and Mazzocchi, M.C. Public Health Reviews (January 2020).
Background: Ten million young children in the U.S. are enrolled in an early care and education (ECE) program such as child care, Head Start or pre-kindergarten. These programs would not function without a workforce of roughly two million ECE teachers and support staff. The ECE workforce is made up almost entirely of women, disproportionately women of color, who earn low wages and receive few benefits. These factors suggest that the ECE workforce may be at a high risk for chronic diseases, but we know little about individuals' health status. This paper looks at what information we have about the health of the workforce and what types of programs are being used to improve ECE workers' health.
Methods: The researchers reviewed all the published studies from the past 10 years that looked at the health of ECE workers. The authors looked for information about rates of chronic diseases such as obesity and depression, as well as risk factors including poor diet, lots of time sitting and stress. The authors also led a nationwide search for examples of health interventions (e.g., training programs, activity challenges) targeting the ECE workforce that had been implemented in the past three years.
Results: The authors found 34 studies that contained information about the health of the ECE workforce. These studies found that between 22% and 50% of ECE staff regularly ate the recommended five servings of fruits and vegetables per day, and a similar percentage regularly got the recommended 150 minutes of physical activity each week. The rates of overweight and obesity ranged from 71% to nearly 90%, which is above the national average. Studies that looked at sedentary time, or the amount of time someone is sitting still, found that ECE workers were sedentary between five and nine hours per day, compared to a national average of roughly six and a half hours per day. In terms of mental health, the studies found that between one-quarter and one-third of ECE workers showed signs of depression or depressed symptoms, which is higher than the national average.
Conclusions: Data surrounding the health of the ECE workforce is limited, but the data that is available suggests that there is a need for interventions supporting the physical and mental wellness of the ECE workforce. We need to learn more about the health status of the workforce, and we need to study what types of interventions work best in the ECE workplace.
Practice Implications
When ECE teachers and staff are physically and mentally healthy, they can provide the kind of high-quality care that we know all children deserve. Working in an ECE program comes with a lot of challenges that can make it hard for staff to stay healthy, though. This article highlights a number of wellness programs that address the health of the ECE workforce, many of which could be adapted and replicated by child care resource and referral agencies (CCR&Rs) to support child care providers in their communities. Local public health departments, large insurance carriers or child care provider unions may be interested in partnering with CCR&Rs to develop and deliver training, coaching and resources that will help providers get and stay healthy.
It is important to remember that even small changes can improve an ECE provider's health and well-being. Encouraging staff to join in physical activities with students can help get everyone moving more. Creating an adult-only space where teachers can store their personal belongings and sit comfortably in adult-sized chairs is a small way to reduce stress and help them feel like they can take a real break during the day. And serving healthier snacks and meals during staff meetings and training sessions can help build and reinforce healthy eating habits.
Policy Implications
As this review points out, many of the risk factors for poor health that ECE workers face can be attributed to low wages, long hours and lack of benefits like health insurance. There are several ways that policymakers could support ECE programs in addressing these problems. First, policymakers should increase subsidy reimbursement rates. The current rates are low and make it difficult for ECE programs to pay higher wages, hire additional staff and offer strong benefits. States can also create incentives for business practices that support workforce well-being by incorporating points in their quality rating and improvement systems for programs that provide paid leave, health insurance and other workforce supports. Finally, public and private funders should be urged to invest in innovative strategies for improving provider health and well-being. In addition to funding pilot programs like those described in the article above, funders could also support data collection and evaluation of pilot programs to assess how effective they are and help the programs improve and become more effective over time.