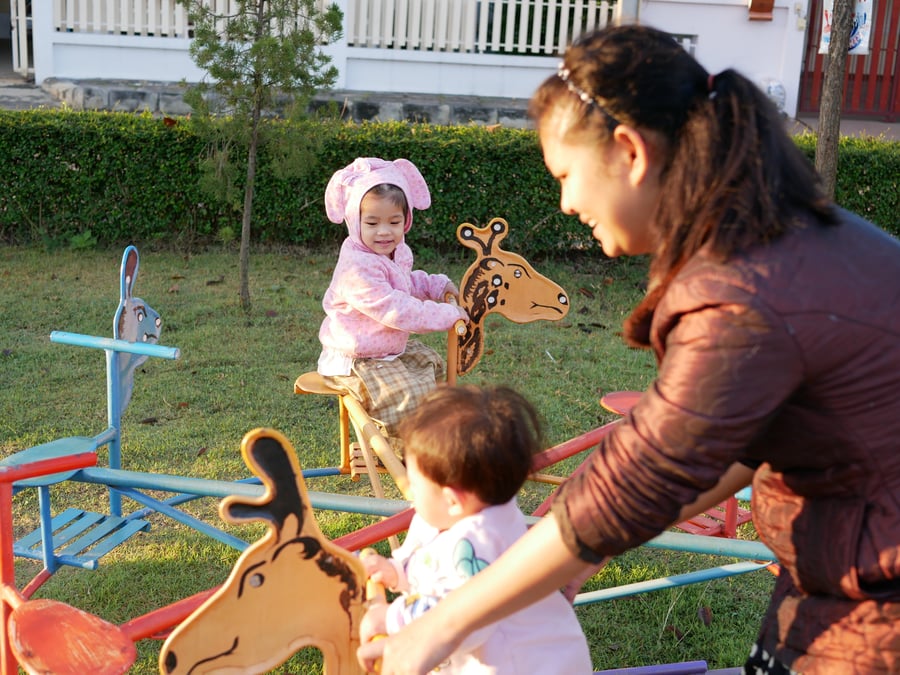 Twenty-two years ago I began the difficult quest of finding a child care provider that I could trust for my six-month-old son. Center-based care for Diego was out of the question. I wanted him in a "homey" place with a provider who could offer a seamless transition from home to child care in a location that was convenient to my work schedule as a social worker, which often included evenings.
I finally settled on my neighbor down the street, whom I'll call Teresita for this post. Teresita was the prototype of a good family, friend, and neighbor (FFN) provider. She was warm and loving, spoke Spanish, cooked the pupusas and black beans that my son loved, and even had a granddaughter who was a little older than Diego, who became his "more knowledgeable other." Teresita was wonderful and our families became close.
When my son turned two, feeling like he needed more stimulation—more educational toys, more "quality"—I moved him to a licensed Family Child Care (FCC) provider. She was great, but my son suffered because his new provider only spoke English. He also wasn't used to the peanut butter sandwiches she provided or to being the only brown child. I started to ask myself questions like, What is quality? Why should I have to sacrifice culture and language, which meant a great deal to my family and my child, for "early childhood quality."
As a parent, shouldn't I be able to have both? What if I could help Teresita gain knowledge of early childhood education strategies that she could implement with my son? Wouldn't that be the ideal situation?
While I personally struggled with these issues, professionally I was involved in the investigation of several cases of neglect in informal child care arrangements in an immigrant low-income community, including a high-profile case that involved the death of a child. I knew that I had to do SOMETHING. I went back to where the incidents occurred, knocking on many doors in the apartment building. I was surprised to find that one out of three apartments had a woman who was caring for two or more children who were not related to her, which is illegal in my state of Maryland.
I also noticed that there were no licensed providers or child care centers in the neighborhood, making FFN the only child care option for working-poor families. I began to inquire where these women would be able to get training or supports to improve the quality of the vital care they were providing and to become licensed. It turned out that none existed.
Families Trust and Rely on Providers Like Teresita
Research tells us that the majority of families in our nation, especially low-wage, shift workers, use informal home-based care for their children. There are many reasons why families rely on FFN providers like Teresita:
They are usually a

trusted family member (or friend or neighbor

). Trust has been found to be one of the most important factors that influences child care choice. A warm and close relationship between the caretaker and child is an important measure of quality; for parents, it's often the MOST important measure of quality. It's therefore not surprising that even when we adjust for income, several studies suggest that for infants and toddlers home-based care is a family's first choice. This seems to be especially true for ethnically and linguistically diverse families.

They probably

reflect the language and culture of the family

, making her a natural extension of the child's daily life. Seamless home-to-care transitions are also a valued measure of quality, especially for infants and toddlers.

They live close by and are willing to open their homes at odd and flexible times to

accommodate non-traditional work hours.

Accessibility is a factor that has enormous impact on child care choice for families with long shifts and unpredictable work schedules

They charge much lower than the market rate for child care, because this is what their

families can afford.

Affordability is an integral factor in child care choice; even with subsidies, the cost of care is out-of reach for many families.
The Challenges FFN Providers Face
FFN providers like Teresita are a natural, dependable, child care asset that most families in our nation depend on to be able to work and remain self-sufficient. As Helen Blank from the NWLC recently tweeted, "Most child care centers operate with standard business hours. This leaves out MILLIONS of moms who work nights and weekends as waitresses, nurses and retail workers." It is not an overstatement to suggest that America's economy relies on informal family child care providers.
Many of the providers I have met in the last 20 years like Teresita face many similar challenges.
They receive very little, if any, training or support in early care and education so they are not able to fully harness a critical window in brain development.

They are not connected to important resources like libraries, health and safety requirements, and nutrition programs, which could support the well-being of the children they care for.

They are also not licensed or regulated in any way, which means families that select them as their child care provider might not be able to take advantage of the subsidies they otherwise need and qualify for.

They are very likely non-native English speakers or have limited-English proficiency (LEP) and probably care for children who are dual language learners (DLL).

They are subsidising the real cost of care at their own peril. They receive less than minimum wage, work very long hours, have no benefits, and are not contributing to their social security.
Providers like Teresita are underground and invisible to the child care system. Nonetheless, they provide an essential service that supports workers in vital sectors of our economy, such as healthcare, retail and wholesale, tourism and hospitality, transportation, safety and education. They are the early childhood front line service in many communities. As Marcy Whitebook from the Center for the Study of Child Care Employment points out, "These providers are carrying the lion's share of the child care for the poorest children."
This is why the 2014 reauthorization of the CCDBG asked state child care leaders to take a closer look at the child care supply in their state—to recognize that for many families center-based care is not available and to develop concerted strategies that support the quality and sustainability of family child care. The regulations also emphasize the need to expand quality child options in high poverty areas, especially for infants and toddlers.
Foreign-Born and LEP Providers: The Future of of the Workforce
Maki Park of the the Migration Policy Institute has written several studies that document the increasingly vital role foreign-born and LEP providers have in the child care workforce. The childcare sector is stratified, and foreign-born and non-native English speakers are overrepresented in the lower levels, particularly as classroom assistants and home-based providers. They face many structural barriers that impede their professional development. Nationally, foreign-born and LEPs are about a fifth of the workforce, but in many localities they are closer to 40% and even higher; in essence, they are the "future" early care and education workforce, except the future is now.
Despite these growing numbers, Park's research shows that many QRIS plans do not take this population of providers into account. Park and her team highlight the urgent need for state leaders to "ensure QRIS are accessible, fair, and more accurately capture and value program elements needed to effectively serve culturally and linguistically diverse children and families." A key element of this strategy is to recognize the funds of knowledge of LEP providers and the indispensable resource they offer families. It also important to design targeted strategies to bring them into the professionalization and leadership pipeline.
Professional Development Opportunities for LEP Providers
For the last few months I have been working with Child Care Aware® of America (CCAoA) to facilitate a conversation with national experts to discuss the issues that impact this segment of the child care workforce. With the support of this advisory board, we have been examining the current status of LEP providers and projecting their professional development needs into the very near future. We are committed to designing and developing culturally and linguistically responsive strategies, and to providing resources and tools for CCAoA's CCR&R membership to better serve these populations.
What's going on in your community? Where have you found successes and what do you struggle with? What resources and tools do you need to strengthen the Foreign-Born and LEP workforce in your community? Let us know in the comments below!
---
PILAR TORRES is the CEO of Fathum Learning Solutions. She believes that early care and education is the foundation of lifelong learning and success. She has over twenty five years of experience in education and human services program design and implementation. She is an Ed.D candidate at Johns Hopkins University.