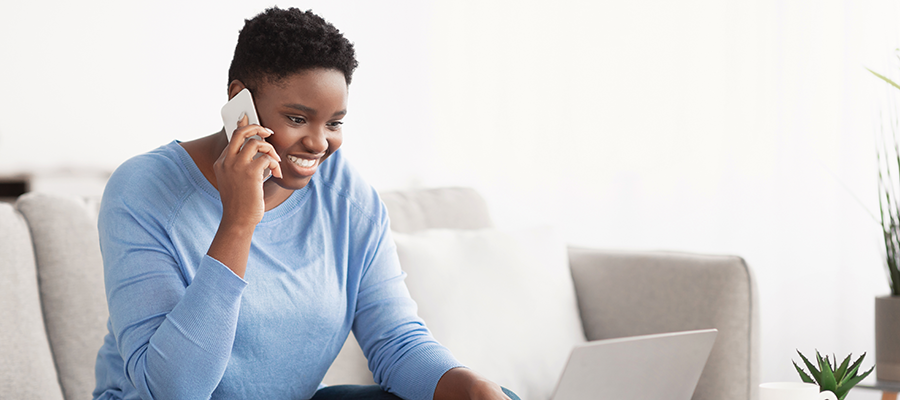 The COVID-19 pandemic forced rapid changes upon the field of early care and education and dictated a re-examination of how many of its traditional systems and services are offered. Professional development is one such system, particularly traditional one-on-one coaching models. For many years, the norm was face-to-face coaching support, but the pandemic required the field to face a new reality. How do we balance offering this much-needed aspect of professional development while protecting the health and safety of staff and children?
Quickly transitioning to virtual coaching has been the answer for many state professional development systems, as well as Head Start and public-school professional development programs. In addition to keeping staff safe and healthy, the transition to virtual coaching has offered other benefits. The following is a summary of reported benefits for organizations transitioning to virtual coaching.
Benefits to Virtual Coaching
Virtual coaching helps create equity and combats isolation. All directors mentioned this aspect, with many sharing examples of how the virtual delivery model supported greater equity across the range of staff in their system. It ensured availability to all staff and eliminated travel barriers such as distance, time and cost.
K. Peterman, 2020. Lessons Learned about Virtual Coaching through the ACRES Project.
Affordability
: Virtual coaching removes many traditional operating costs such as transportation, physical meeting room, coffee or food, etc., and allows the coach and coachee to meet and interact via cost-effective tools such as Zoom, Microsoft Teams, Google Meet, Facetime and others.
Accountability: Virtual coaches can check in more frequently using chat and text messaging features in addition to scheduled virtual meetings. This ensures that coaches stay focused on shared goals, resulting in improvements in quality care and teaching.
Freedom and Flexibility: With virtual coaching, there is the freedom to hold conversations anytime and anywhere, and the flexibility to hold coaching sessions at the convenience of both the coach and coachee. This offers the opportunity for more focused learning with the added benefit of being able to adjust more easily should unexpected issues occur.
Lessons Learned During the Pandemic
In addition to the benefits summarized above, there were several lessons learned reported by organizations that changed their focus to providing a virtual option.
Stay connected: As professional development providers moved quickly to prepare for the transition to virtual coaching, they indicated that maintaining connections and relationships with participating programs and providers was key. Many changes and adjustments had to be considered and implemented with little time to understand the impact these changes would have. Staying connected to providers and keeping them informed during this time of monumental shifts helped ease tensions around the shift to virtual coaching.
Broadly, the good news about virtual coaching is that, as we've discovered during COVID, it can essentially mimic in-person coaching and assure some continuity of teacher support and learning.

Burns, 2021, Education Development Center
Examine the current coaching model:
As technical assistance providers considered transitioning to virtual coaching, it became necessary to examine how current face-to-face coaching might need to be adapted and revised to fit a virtual model. It also became important to consider which virtual coaching techniques are similar to and which are different from the in-person coaching approach. Coaching techniques needed to be examined for their appropriateness and acceptance by providers. Offering group coaching sessions was also a consideration to meet the needs of providers for collaboration and peer engagement opportunities.
Technology and training for coaches and providers:
Transitioning to virtual coaching required that professional development providers anticipate and prepare for the technological equipment and training needed by both coaches and providers to implement virtual coaching successfully. An assessment of the existing skills, experience and technology of coaches and providers is crucial, as well as asking what they perceive their needs to be. Types of assessment questions to include: Do providers have the necessary equipment and technology? Do coaches need upgraded equipment? What training should be offered? Do you have a virtual platform that can be used or adapted, or will you have to adopt another?
Mental Health for providers: Pay attention to the social emotional needs of providers during the transition to virtual coaching. Providers have experienced unprecedented change in the way they care for children as well as how they operate their businesses. They have lost staff and families, and many have been on the brink of closing, or have closed and only recently re-opened. Be prepared for the possibility that virtual coaching might have to focus on social and emotional issues. This may include addressing fears or concerns that providers have related to the pandemic and its aftermath, as well as its impact on their communities. Coaching sessions may have to shift for a time in consideration of the type of supports and resources providers will need to address these fears and concerns.
Take Action:
As the shift to virtual coaching has been made or is being made, there are resources available now to assist in improving or implementing virtual coaching. In March 2021, Congress passed the American Rescue Plan (ARP) Act, a $1.9 trillion COVID-19 relief package. The package includes $39 billion in dedicated child care relief funding.
Additional information regarding the ARP Act can be found here. As you transition toward or enhance virtual coaching options in your state, be a voice at the table to advocate for using these ARP Act funds for a refreshed approach to coaching. As you can see by the above information, funding is available to assist in making the shift to virtual coaching. Reach out to key decision-makers such as the state child care administrator and legislators with policy suggestions and virtual coaching success stories. You may find that virtual coaching can help you meet the needs of providers while improving the quality of care, as well as the health, mental health and safety of all involved.