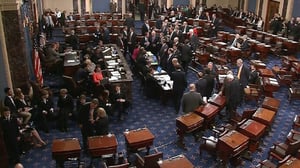 Tomorrow, the Senate will begin deliberating S. 1177, the "Every Child Achieves Act of 2015," which would reauthorize the Elementary and Secondary Education Act (ESEA), something Congress has not done since 2001. The Senate Health, Education, Labor, and Pensions (HELP) Committee unanimously approved this bill on April 16.
ESEA oversees the nation's K-12 policy, as well as promotes early learning initiatives. S. 1177 proposes significant changes to the current law, including the creation of a new early education grant to states to improve early childhood education coordination, quality, and access, and would specifically target resources for low- and moderate-income families. In addition, the current bill creates a new literacy program with a set-aside for early learning, and clarifies existing use of early education funds under Title I.
During consideration of S. 1177 on the Senate floor, Senator Bob Casey (D-PA) will offer an amendment to the bill that would authorize and fund the Preschool Development Grant program, and the "Strong Start for America's Children Act of 2015" (H.R. 2411/ S. 1380). Click here for more information on the Senator's amendment, as well as here to see how each state would financially benefit from it. You can read more about the "Strong Start for America's Children Act of 2015" here.
A final vote on S. 1177 may take several weeks due to the number of amendments that will be considered. While the White House has not publicly weighed in on S. 1177, Arne Duncan, Secretary of the Department of Education, "applauded" the Senate bill shortly after it was approved by the HELP Committee in April. However, President Obama has threatened to veto the House version of this legislation, the "Student Success Act," (H.R. 5), which was approved by the House Education and the Workforce Committee in February.