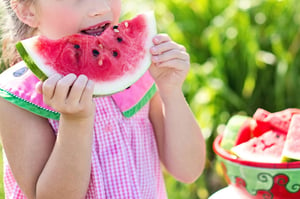 I love summer! Warm weather, even when it's humid and sticky, beats the winter layering and trying to keep track of the extra accessories like mittens, scarves, coats, and boots. The "lazy days" of summer are here – and yet I still got that phone call. I missed an appointment today, scheduled a long time ago for my daughter. Ugh! I guess I was a bit too relaxed on the summer no-school routine!
Of course we're all likely too aware that there is really no slow down for summer. And the same is true for CCAoA. Our staff team is busier than ever and committed to a summer of activity in support of the important changes happening in child care.
Around the Country
We are thrilled to have been chosen as a recipient for a Robert Wood Johnson Foundation grant where we will have the opportunity to provide technical assistance and leadership on health, nutrition, and obesity prevention in child care settings around the country. As required by the new CCDBG law, implementing the new requirements into a state plan has an upcoming March 1, 2016 deadline. We look forward to the partnerships we will forge and the critical data collected to address this critical issue!
Our Regional Military Child Care Liaison, Karen Lange represented us well as Governor McAuliffe of Virginia signed the Child Care Safety Bill on May 26, 2015 that requires fingerprint background checks for licensed child care providers. This legislation was the result of the contributions of many stakeholders, including Child Care Aware® of Virginia, our amazing parent advocates, and Child Care Aware® of America.
Online and On-Air connections
On June 16, Child Care Aware® of America and Save the Children hosted a webinar detailing the new disaster preparedness and response requirements under the new CCDBG law. The webinar moderators included Jay Nichols, Director of Federal Policy and Governmental Affairs with Child Care Aware® of America, and Rich Bland, National Director, Policy and Advocacy, Save the Children, U.S. Programs.
Over 200 people participated! You can watch the recorded webinar here.
On July 25, Child Care Aware® of America jointly led an #EarlyEdChat on Twitter with MomsRising, MamasConPoder, and Easter Seals to discuss children with special needs in child care. We shared a variety of early care options for parents and provided detailed answers to questions regarding quality care and resources for children with special needs in child care. According to Twitter metrics tool TweetReach Pro, this chat reached 198,035 twitter accounts for 5,238,102 potential readers! You can find this chat and other previous early ed chats by searching Twitter for the hashtag #EarlyEdChat.
CCDBG Implementation
The Child Care Aware® of America policy team launched a CCDBG Guide on our website. CCAoA members also had the opportunity to engage with policy staff and subject matter experts for weekly office hour timeslots with thematic approaches dealing with the 2014 CCDBG law.
Member Connections
On June 16, I presented on the implications of the Child Care and Development Block Grant Reauthorization of 2014 Act (CCDBG) on the Healthy Kids, Healthy Futures June conference call. The presentation was centered around health, nutrition, and obesity prevention as outlined in the new CCDBG law, and its impact on the child care industry. Child Care Aware® of Kansas was spotlighted for their work through the Healthy Kansas Kids Project along with Illinois (INCCRRA) for their Healthy Child Care Initiative (PDF).
Are you doing something in your state or community that you'd like to share? Please let us know! We'd love to share your innovations and successes!
ICYMI: June In the News
Forbes spoke to CCAoA's deputy director of policy, Michelle McCready, on the effect of unaffordable child care on families. Find out what Michelle had to say about the child care crisis in Child Care Is Biggest Expense For A Growing Number of Families.