The Child Care and Development Block Grant (CCDBG) is the primary federal grant program that provides child care assistance for families and funds child care quality initiatives. CCDBG is administered to states in formula block grants. States use the grants to subsidize child care for low-income working families. CCDBG also funds Child Care Resource and Referral services and quality projects for infants and toddlers.
Child care resource and referral (CCR&Rs) agencies are uniquely positioned to influence many aspects of CCDBG. Whether you are directly responsible for writing your state's plan or desire to use your organization's expertise and systems to influence and implement the plan, Child Care Aware® of America is your go-to resource for all-things CCDBG.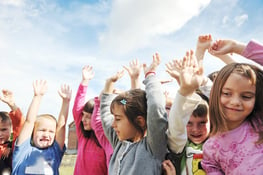 Jump to a specific section:
---
CCDBG Background
What is CCDBG?
This federal funding for child care began in 2014 when Congress passed the bipartisan reauthorization of the CCDBG Act. Key provisions from the reauthorization include stronger health and safety requirements, improving the quality of care with supports for providers and providing more accessible child care assistance for families. In FY2020, Congress increased discretionary funding for the Child Care and Development Block Grant (CCDBG) by $550 million, for a total allocation of $5.826 billion. This funding will be crucial in helping states to continue implementing the new requirements from CCDBG's 2014 reauthorization.
You can find more about the FY2020 funding levels for all federal early childhood programs on CCAoA's budget and appropriations page.
What's the difference between CCDBG and CCDF?
The Child Care and Development Block Grant Act (CCDBG) is a law that authorizes the Child Care and Development Fund (CCDF) program, which is administered by states, territories, and tribes. States use CCDF to provide financial assistance to low-income families to access child care so they can work or attend a job training or educational program. States can also use CCDF dollars to invest in improving quality through teacher workforce, supporting child care programs to achieve higher standards, and providing consumer education to help parents select child care that meets their families' needs. In short, CCDBG is the law and CCDF is the program.
How We Can Help CCR&Rs with CCDBG
Getting a seat at the table to influence your state's plans starts with enhancing and updating your CCDBG implementation expertise. CCAoA offers free resources to help CCR&Rs deepen their impact and secure funding. Our experts have provided resources on areas like:
Advocacy

Consumer Education & Engagement

Emergency Preparedness & Disaster Relief

Federal Policy

Health & Safety

Research

Professional Development & QRIS
CCDF Resources
Below are resources based on each of the eight categories that ACF uses to determine state compliance with the requirements of the law and rule. If you don't see a resource that you need, please reach out to one of our experts.
Define CCDF Leadership and Coordination

With

Relevant Systems
Promote Family Engagement Through Outreach and Consumer Education
This section of the CCAoA website features information and materials to enhance the capacity of CCR&Rs, and other similarly positioned entities, to advance their consumer education and engagement practices. Some of the documents include a social media guide and suite of pre-made social posts, consumer education brochures and resources for serving homeless families.
Provide Stable Child Care Financial Assistance to Families
Ensure Equal Access to Child Care for Low-Income Children
Child care should available to all families, regardless of socio-economic status. This report from CCAoA examines the latest data on child care affordability, accessibility and quality and how the COVID-19 crisis has impacted the entire child care system. Readers can get state-level information on their state and immediately send a message to their lawmakers urging them to invest in child care.

Establish Standards and Monitoring Processes

To

Ensure the Health and Safety of Child Care Settings
New Program Instruction on Background Checks


In October 2017, the Administration and Families (ACF) published a guidance updating the requirements on background checks mandated under the Child Care and Development Block Grant (CCDBG) Act of 2014.





Required background checks




What Are the Federal and State Background Check Requirements? Find out here.




Getting Your Business Licensed




What is child care licensing? What is covered? And How can child care providers get one?




Licensing Database




The Child Care State Licensing Database was developed for policy makers, child care advocates, and providers interested in aligning state child care licensing requirements toward quality

. This resource offers a state-by-state overview of ratings.




Suspension and Expulsion
This document provides research and materials on reducing the expulsion of young children in early childhood

programs and

examples of state efforts that can guide decision-making about expulsion policy decisions.



Recruit and Retain a Qualified and Effective Child Care Workforce
Transforming the Financing of Early Care and Education


The report

by the

N

ational Academies of Sciences, Engineering, and Medicine (NASEM)

explores how to finance quality early care and education (ECE) systems so that it is accessible to all families in all settings.

This is a helpful resource in how you can retain an effective work force and educate the community on its importance.



Recruitment and Ret

ention

- Head Start




It can be a challenge to recruit and retain highly qualified professionals in early childhood education. In this resource, find examples of state systems and policies that help support recruiting and retaining a highly-qualified workforce. Also, learn strategies for data collection on staff turnover.
Early Care and Education Coaching




In

this brief, learn more about the coaching landscape across the country. Also, find strategies and resources to promote systemic coaching approaches for state, territory, or regional considerations.



Support Continuous Quality Improvement
QRIS Resource Guide

(NCEQA)


The QRIS Resource Guide is intended as a tool for

s

tates and communities to explore key issues and decision points during the planning and implementation of a quality rating and improvement system (QRIS).

Family Engagement in QRIS




Family engagement is integral to quality child care and improved child and family outcomes. This project

e

xplores the state of family engagement in Quality Rating and Improvement Systems (QRIS); i

dentifies and defines key family engagement features and indicators from best-practice models and research; and r

ecommends their incorporation into statewide early care and education quality improvement systems and provider practices.
Ensure Grantee Program Integrity and Accountability
Policies and Procedures


Your policies and procedures will include

a number of

important topics. Some will be larger and overarching and others may seem less significant.

All of

these items, however large or small, are important to think about and establish ahead of time so that your business may run smoothly and all parties, from employees to families, know what to expect.
Get Connected with Our Experts
Getting a seat at the table to influence your state's plans starts with enhancing and updating your CCDBG implementation expertise. CCAoA offers free technical assistance to help CCR&Rs and providers deepen their impact and secure funding. Request individualized support from our team by simply filling out the form below!