Child Care Aware® of America hosted its first Raise Your Hand for Child Care virtual event. This event included a live reddit AMA (Ask Me Anything) and Twitter chat to conclude our Raise Your Hand for Child Care five-month webinar series, which was created to build awareness about federal and state policy opportunities to support child care.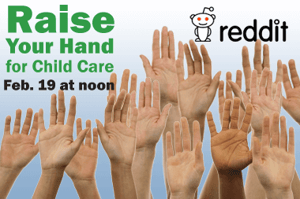 The Raise Your Hand series united coalition partners and early childhood advocates nationwide and the virtual finale event gave the public the chance to ask questions about early childhood policy, the child care subsidy system, the Preschool for All movement, and more. To view the entire reddit event, click here. support child care.
Not only did our virtual event help us engage parents and families around the country, but it also generated lots of questions that we'll be addressing at our 2014 Symposium. Many of 27 breakout sessions taking place at Symposium will talk about the new funding for Early Head Start – Child Care partnerships, research about families and best practices for training providers, and so much more we chatted about during the Raise Your Hand virtual event.
Get more at Symposium

The Child Care Aware® of America 2014 Symposium will take place April 2-4 at the Hyatt Regency Washington on Capitol Hill in Washington D.C. This three-day event will focus on child care and early education policies and bills currently before Congress, as well as research, practice and innovation approaches for child care that are shaping how families access quality child care. To register for Symposium, please visit our website here and follow the conversation on Twitter using #RYH4ChildCare.
Sneak Preview

Be sure to check the Early Directions blog often. Over the next few weeks you'll get a peek into some of the 2014 Symposium sessions through guest bloggers who will also present at Symposium. We are proud to present sneak preview blogs from:
Join us in preparing for the 2014 Symposium where we'll celebrate our field and keep the momentum forward as we do something BIG for children in child care.