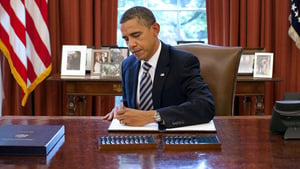 President Obama signed a $956 billion farm bill into law last Friday, the first farm bill passed by Congress since 2008. The bill is being hailed by many as an historic bi-partisan victory. Unfortunately, to the victor, go the spoils.
What's the farm bill?

The farm bill establishes food and agriculture policy for the United States, and much of the bill, about 80 percent, pertains to nutrition benefits like food stamps, or, SNAP (Supplemental Nutrition Assistance Program). Farmers will continue to receive generous federal subsidies that help them stay in business. Unfortunately, the biggest losers in the farm bill are children and poor families.
The Food Research and Action Center (FRAC) wrote,
"FRAC has opposed the SNAP cuts because they will harm too many of the most vulnerable members of our society, making monthly food allotments fall even further short of what is needed for seniors, people with disabilities, children, low-income workers, and unemployed people."
How the farm bill hurt children

We all know how important child brain development is for predicting not only school achievement but success in life as well. And it should be intuitive that children who don't eat don't learn. So why then would Congress take the unprecedented step of cutting SNAP by $8.6 billion – when it would affect these benefits for millions of food-insecure families?
SNAP matters to children and families in every community. It serves the most vulnerable in society; 83 percent of SNAP benefits go to households with children, elderly persons or persons with disabilities. Half of SNAP enrollees are children. And benefits are already meager – averaging $1.40 per person per meal.
Nearly 49 million Americans live in households that are food insecure. Too often they are forced to choose between paying for food or rent, medicine, shoes for their children or heat – choices no family should have to make. Congress should be strengthening, not weakening SNAP.
The whole child

Investing in children early makes a difference, but they have to have their basic needs met to take full advantage of the opportunities presented to them. Join us for Health Aware at the Child Care Aware® of America 2014 Symposium where we'll focus on the health and well-being of the "Whole Child." Sessions include presenters from the USDA Food and Nutrition Service, Save the Children, Child's Environmental Health and Let's Move! Child Care
Get more:

Let's Move! Child Care
2014 Symposium
Food Research and Action Center