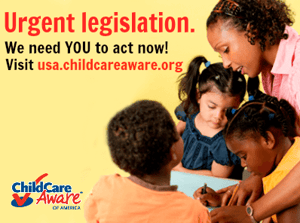 The Senate will consider the reauthorization of the Child Care and Development Block Grant (CCDBG) as early as next week. As you know, this federal law outlines how child care funding and quality initiatives are funded in the states –yet it has not been reauthorized in over 17 years, making the Senate debate next week one of the most critical conversations about children in child care in recent times.
This piece of legislation, S. 1086, is something for which Child Care Aware® of America has long fought and we're thrilled and hopeful that the bill has come this far. There are many steps to take still, but if passed, this legislation would help ensure working families have access to safe, affordable child care in ways that do not exist today.
Children and families in America are counting on you and I to rally behind every step the CCDBG reauthorization takes towards becoming reality. That's why we are urging everyone to contact their Senators and ask them to support S.1086 right away.
Need more? Here are five reasons the reauthorization of CCDBG matters:
Comprehensive background checks. Did you know under the current law, many states do not require child care providers to have comprehensive background checks to work in child care? This means that it's possible for anyone to receive child care funds and work with children… even sex offenders. This CCDBG reauthorization requires providers undergo a comprehensive background check, which include state and federal fingerprint checks, sex offender registry check and a child abuse and registry check. It's a common sense requirement to keep children safe.
Increased quality funds to states. The current CCDBG law requires that states use 4 percent of funding from CCDBG for quality dollars. These quality dollars help Child Care Resource and Referral Agencies support quality initiatives like training and parent education. This number of quality dollars increases dramatically with S.1086 requiring that states set aside no less than 6 percent of funds in 2014, 8 percent of funds in 2016, and 10 percent of funds by 2018 to improve the quality of child care.
Increased awareness for families. This CCDBG reauthorization requires states to electronically post the results of monitoring and inspection reports, including substantiated complaints of child care programs. Additionally, states would be required to collect and make public the number of deaths, serious injuries, and instances of child abuse. Transparency is necessary to help parents choose the right child care setting for their family.
Inspect child care programs before licensing. Many states do not require inspections prior to issuing child care licenses. Some states even allow self-certification prior to receiving a license. The CCDBG reauthorization, S.1086, requires states to inspect programs at least once before licensing and at least one unannounced inspection annually. These reports must also be posted electronically.
Continuity of care. S.1086 ensures each child who receives assistance through CCDBG will continue to be eligible for child care assistance for no less than 12 months, as long as family income does not exceed 85 percent of state median income for a family of the same size. This is extremely important for our youngest learners because we know how crucial continuity of care is in a child's early years. The ability to keep a child in a program consistently will help ensure the child receives appropriate developmental activities and prepares them to start kindergarten ready to learn.
This is a critical moment for the future of children in child care. Don't delay. Your senators will need to know your position as they prepare to discuss the bill.
Thank you for your support for children in child care.