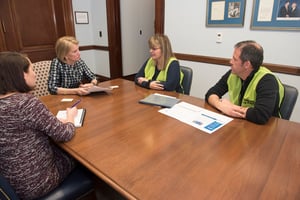 As I walked into the trauma room, I was horrified to see my 6-year old daughter, barely visible under a head and neck brace while lying on a backboard. Doctors and nurses were carefully attending to my daughter, ordering tests, checking vital signs, and repeatedly calling out her name to keep her alert and awake. Not knowing the extent of her injuries, I felt helpless in the midst of this hurried and surreal environment, yet I tried to process the events surrounding this terrible accident.
How could she have fallen out of a two-story window at her licensed child care center?
I was determined to understand the circumstances of the accident. Unfortunately, I was left with dead ends and minimal communication from both, state agencies and the child care center. Devastated, I began to research the heart-breaking realities of child care in America: child deaths, lack of background checks, lack of accountability, inconsistent or nonexistent safety monitoring, and variable state requirements. I was shocked!
After weeks of reading countless child care tragedy articles, I felt discouraged and distraught. How could this be happening here? Why aren't parents aware of the potential risks when they drop off their children at child care centers and homes across America? What is being done to protect our children?
That fall, I discovered a scholarship for Child Care Aware® of America's 2016 Family Advocacy Summit. Because I felt unqualified to be a parent advocate, I didn't think I would have a chance of being chosen. However, after repeatedly being frustrated with my own daughter's case, I applied for the scholarship in December.
On February 10, 2016, I was selected as one of twenty parents in the nation to receive the scholarship to attend the 2016 Family Advocacy Summit. I was a typical, working mom, who was given a life-changing opportunity.
Without any previous political or advocacy experience, I was feeling anxious. However, I was ready and excited for this new challenge. As soon as I arrived at the symposium, the Child Care Aware® of America staff took care of my every need and made sure that I was educated and equipped with the necessary tools to become an advocate.
With each renowned guest speaker I heard, I became more inspired and better educated about the dire need of accessible, quality, and safe child care. Professionals and parents from around the world were working collaboratively to understand the diversity of families and improve the child care system to meet the needs of ALL families. A highlight of the summit was meeting the other parents who had experienced unbelievable child care tragedies; it was humbling and eye-opening.
When my daughter's accident occurred, I felt very alone and isolated. The Family Advocacy Summit made me realize I was not alone. In the midst of all of the families' tragedies and sadness was an overwhelming sense determination for promoting tangible change. The positive energy was contagious! I felt empowered and ready to advocate for children with my members of Congress, something I could have never imagined myself doing.
Sharing my daughter's story with Senator Capito and Senator Manchin's staff is an experience I will never forget. Hopefully my voice will make a difference, and the necessary changes for child care can be implemented across the country.
When we don't voice our concerns, we become part of the problem; I want to be part of the solution. Because of my life-changing opportunity with Child Care Aware® of America at the 2016 Family Advocacy Summit, I will be advocating for an improved child care safety and quality system in my home state this summer. I have a feeling this is just the beginning.
---
Laurie Ferguson and her husband Andy met with Sen. Capito (R-WV) and her Legislative Aid to discuss issues of child care safety and funding. (Photo by Steve Barrett.)