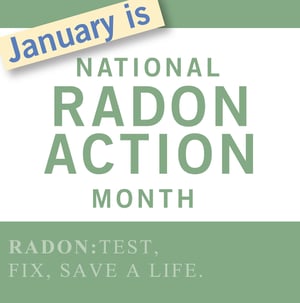 This month we are acknowledging National Radon Action Month. We encourage you to test your home and workplace for radon. Radon is a naturally occurring radioactive gas released in rock, soil, and water from the natural decay of uranium. You can't see, smell, or taste radon, but it could be present at a dangerous level in your home, workplace or child care facility. If high radon levels are detected, you can take steps to fix it and protect yourself and your family.
Radon is completely preventable, however: Test. Fix. Save a Life.
Radon can seep into buildings from the surrounding soil, cracks in the foundation, through construction joints, and even through well water. Typically, the highest concentration of radon is found in the first floor or basement of a building. Having your home or office tested is the only effective way to determine if radon is present. Many local public health departments offer little or no-cost radon testing kits, especially during Radon Action Month. Check with your local public health department to see what resources may be available in your community.
The U.S. Environmental Protection Agency also has developed a website and resources discussing radon in schools, many of which are applicable to child care centers.
For more information on how you can protect your health and the health of your family and take action against radon during National Radon Action Month, please visit their website.