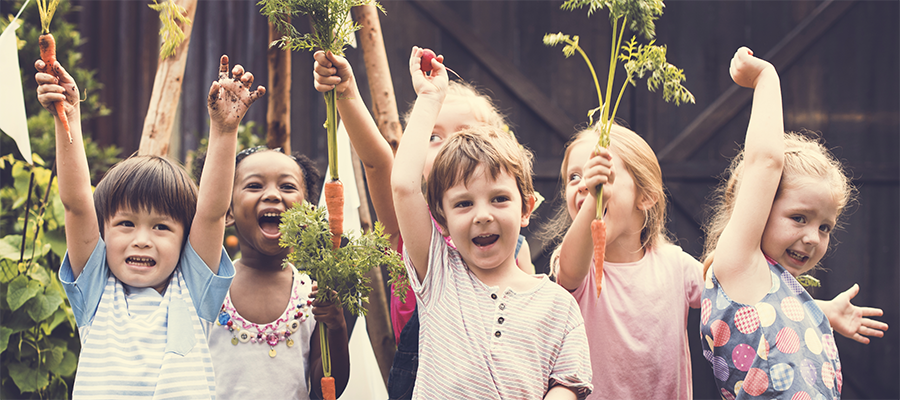 Written by Lacy Stephens, MS, RDN, National Farm to School Network and Emia Oppenheim, PhD, RD/LD, Association of State Public Health Nutritionists
October is National Farm to School Month, a month to recognize, appreciate and celebrate the connections happening across the country between kids, families and their local food systems because of farm to school and farm to early care and education (ECE) programs and partnerships. While COVID-19 has undeniably made this month like no other, it has also made it even more important to celebrate National Farm to School Month and elevate the critical work of connecting children and their families to healthy, local food and food education.
Farm to ECE is a broad range of activities that aim to enhance the quality of ECE settings and increase access to healthy foods. Farm to ECE looks different in each ECE and community, but generally includes at least one of the "core elements" of purchasing and serving local foods; providing food and agriculture education; and incorporating edible gardening opportunities in the ECE setting. Examples of core farm to ECE activities include offering local apples for snack, learning about honey bees' importance in an ecosystem, and growing parsley plants in cups on the windowsill. Consistent among all farm to ECE activities is the flexibility they can provide to fit for all types of ECE settings, diverse geographies, and different ages and abilities of children.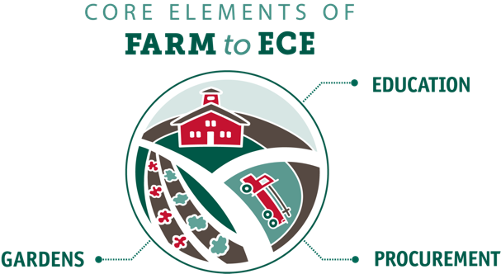 Farm to ECE offers many benefits that help support the goals and priorities of ECE providers:
Supporting Health and Wellness – Farm to ECE initiatives support increased fruit and vegetable access, acceptance and consumption for young children. Early childhood is a vital time to form taste preferences through exposure to new foods, including exposure offered through farm to ECE activities like growing, cooking, and tasting local foods.
Experiential Learning – Farm to ECE activities, like hands-on gardening or food preparation and tastings, offer experiential learning opportunities for young children that capitalize on their natural curiosity and learning styles.
Family and Community Engagement – Local food activities offer engaging and impactful ways for families to connect with ECE settings and their child's education. Purchasing local food, joining farm field trips, helping with ECE gardens, etc. all build connections between families, ECE settings, and the local food system.
Addressing inequities – Farm to ECE initiatives can be leveraged as one pathway to advance equity in ECE and food systems.
The COVID-19 crisis has forced providers to navigate new and unknown challenges. Many sites have not been able to stay open and those that have are trying to figure out how to serve families and young children while adhering to new health and safety guidelines. Farm to ECE is a valuable, adaptable approach to supporting childhood wellbeing and communities during the COVID-19 crisis. These reasons include:
Growing with Space - Outdoor classrooms and garden environments can offer safe, physical distancing.
Learning Experientially - Learning about growing food can be hands on, offering developmental, cognitive, and social emotional benefits.
Supporting the Community - Supporting local food producers and economies during difficult times keeps money in the community.
Two new resources from the Association of State Public Health Nutritionists and the National Farm to School Network elevate why and how farm to ECE is still important for children, providers, and communities.
These are just a few of the many reasons why it is important to celebrate National Farm to School Month with farm to ECE. Looking for more ways to celebrate? Interested in learning more about farm to ECE? Check out the National Farm to School Network's farm to ECE landing page and COVID-19 Farm to ECE Resource List.
---
Meet our Guest Bloggers

Lacy Stephens, MS, RDN, Senior Program Manager with the National Farm to School Network, works to expand the farm to school and farm to early care and education (ECE) movement through information sharing, network building, and advocacy at the national, state, and local levels. Based in Kansas City, MO, Lacy is a registered dietitian with a master's degree in food systems and is currently a Bloomberg American Health Initiative Fellow at Johns Hopkins University.

Dr. Emia Oppenheim is a registered, licensed dietitian with a doctorate in nutrition, and a career focus on nutrition, early childhood development, and chronic disease prevention. Since 2003, Dr. Oppenheim has been applying her expertise to impact population health in these areas through policies, systems and environmental change. Dr. Oppenheim is a nutrition consultant for the Association of State Public Health Nutritionists.