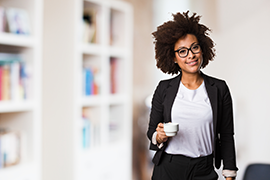 Child care resource and referral (CCR&R) agencies are a critical link between families of young children, communities, and local services and supports. Alma's story illuminates how her local CCR&R's lending library and caregiver education program strengthens families and encourages early learning and development.
My name is Alma Rodriguez. I have frequently visited the Annabelle Godwin Library at The Child Care Resource Center (CCRC) in California since my now 7-year-old daughter was a few months old. My second daughter, three years old and soon to be a preschooler, has enjoyed the library too. Through the Kaleidoscope Play and Learn program and story time, both my daughters have received amazing school readiness skills. We also have met great friends and teachers there. I, as a parent, have been able to connect with other parents or caregivers and increase my family's social connections. We have also used the library's toy lending program and found it very useful.
I am so glad all these wonderful tools have been available to me and many other families since they create stronger communities.
Child care resource and referral agencies provide parents with the support and resources they need to support early childhood education. We invite you to share your story with us as well.