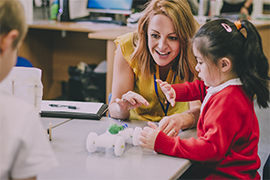 As we embark on 2017, we look forward to a new year and how we can make an impact during the first 100 days of the new administration. On child and family programs and policy we remain committed to ensure the new Administration and Congress are aware of the policies and resources critical for positive outcomes; and, that within states and communities we engage influencers and implementers to advocate for policies in the best interest of children. Our Child Care Works movement is poised to continue the momentum around ensuring that quality, affordable child care remains a national priority for both the new administration and Congress, and upcoming events like the Child Care Aware of America® Policy Summit will position child care advocates to make their voices heard in the first 100 days.
Below are some additional highlights from January.
Online and On-Air
The Research Team is developing its annual survey to states. The survey will be sent out in mid-February, and data collected will be used for the annual state fact sheets and the Cost of Child Care Report. We will also be doing in-depth child care desert maps in 15 states over an 8-month period. Look for tailored state child care desert maps and summaries on our child care deserts landing page throughout the year.
The Family and Community Engagement Team recently launched a pilot opportunity for reaching vulnerable families through advanced child care consumer information and outreach strategies. The Kellogg project RFP application period has closed, and the team is now reviewing proposals with plans to select two CCAoA CCR&R members to pilot the child care consumer information resources contained in the new resource suite that is being developed.
CCAoA's Emergency Preparedness Team is partnering with the Minnesota Poison Control Center to make resources for child care providers more accessible. Staff at the Minnesota Poison Control Center will create a series of short video clips to help child care providers understand when to call the center, what to expect when they call, and common situations that are dealt with related to children and poisonings. The video clips will be used through a variety of channels to complement the work of the emergency preparedness team.
Has your CCR&R contributed to your state's planning for childcare.gov participation? CCAoA's NDS Team is supporting NDS licensees and their state partners in the coming months by:
Expanding and standardizing childcare.gov client and facility fields in NACCRRAware,
Expanding the NDS API to include childcare.gov preferred data sharing methods,
Creating push button .CSV files to help NDS users easily share data with states and federal government,
Attending regional ACF meetings where childcare.gov is the focus,
Piloting OCC developed state website search template with 1-2 states, and
Communicating field-based recommendations to the Office of Child Care.
The NDS community is also invited to attend free Lunch and Learn webinars nearly every Thursday throughout the year. Look for the following events in February:
February 2: Childcare.gov NDS User Forum
February 9: Notes from States - Leveraging NDS to Bring Child Care Deserts to the Forefront
February 23: NDS Post-Deployment Overview
The NDS Lunch and Learn series is offered exclusively for CCR&Rs and governments with an NDS license. For more details about the NDS Lunch and Learn series, please contact the NDS Help Desk at ndshelpdesk@usa.childcareaware.org.
Around the Country
Child Care Aware® of Minnesota hosted their statewide annual meeting on January 19 in St. Paul, attended by approximately 130 CCR&R staff, board members, and state partners. CCAoA's Holly Nett presented with Child Care Aware® of Minnesota staff on the emergency preparedness pilot project.
Member Connections
The Child Care Aware® of America Policy Summit is scheduled for April 23-25, 2017 and will be held at the Washington Court Hotel on Capitol Hill in Washington, DC. This event addresses policy, practice, and the future of the early childhood field. The Policy Summit will engage professionals in the field and our Child Care Works grassroots advocates and provide information on policy that informs, educates, and assists attendees in building their policy strategies. Sessions will cover action items around discussing public policy as well as legislation and regulations with policymakers across the local, state, and federal levels. Finally, the Policy Summit will include our annual Day on the Hill event, giving child care advocates an opportunity to put the skills they have learned into action, meet with their Congressional representatives, and position child care initiatives at the forefront of the political conversation. Learn more and register today for this important event!
We also invite family advocates to join us for this year's Child Care Works Family Advocacy Summit as part of the larger Child Care Aware® of America Policy Summit. CCAoA and Child Care works are sponsoring 40 parents (including grandparents and other relatives) who will receive training and guidance on advocating for child care policies with their members of Congress, how to tell their personal child care story, and more. Attendees will then have a chance to meet with their Congressional representatives and advocate for the necessary policy initiatives needed from Congress to bring safe, affordable, high-quality child care to families across the country. Learn more about this opportunity, and apply today!
ICYMI: January in the News
After entering the first few weeks of the first 100 days of the new administration, our Child Care Works movement continues to build momentum. Join us by signing a pledge to hold President Trump to his campaign promise of working toward more affordable child care and early learning options for families. We also encourage advocates to reach out via social media to Ivanka Trump and Secretary of Education nominee Betsy DeVos, asking them to make early learning a priority in the first 100 days of the administration.
The Parent and Provider Services Team launched the National Geospatial-Intelligence Agency (NGA) fee assistance program in January and has started receiving NGA fee assistance applications.
The Health Policy Team has completed focus groups on the impact of staff health on their ability to model and teach healthy active living with children in care. Common themes are emerging, and the teams have mobilized around output and outcomes planning for our findings. The team is now working on a related white paper on staff wellness and a toolkit on targeted nutrition, physical activity, and screen time advocacy messaging that is scheduled for a March release.
The Health Policy Team also recently launched its work around the Voices for Healthy Kids American Heart Association's Voices for Healthy Kids program grant with a stakeholder meeting in January. The Team has started to provide Technical Assistance to the Association and to Voices' Campaign Grantees.