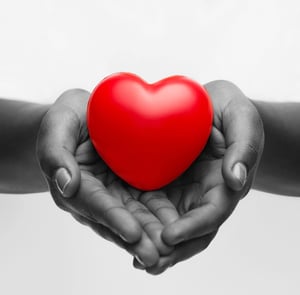 Heart disease and strokes are the #1 killers of women in the United States Roughly every minute, another woman dies, according to the American Heart Association (AHA). Although heart disease affects women of all races and ethnicities, rates are especially high for African-American women.
Here's a little story to inspire you:
Wear Red
On February 3, the entire staff of the Rockcastle Hospital Child Development Center in Mount Vernon, KY will put on their red t-shirts and participate in a 2-mile run. This event is their way of marking the 14th annual National Wear Red Day, a national public awareness day to focus attention on heart disease and strokes in women.
The idea for the group run came to Center Director Twila Burdette after she read a magazine article on how much these illnesses affect women; she had always thought heart disease affected primarily men. Knowing the risk factors and making some lifestyle changes could greatly reduce the chance that heart disease would claim her life.
Understanding the Risk Factors
Ninety percent of women have one or more risk factors for developing heart disease, according to the AHA. If you have:
Diabetes
High blood pressure
High cholesterol
A family history of heart disease
Or if you are:
…then you are at increased risk.
Every risk factor listed above is more prevalent among African Americans, which explains why heart disease disproportionately affects African-American women. Half of all African-American women ages 20 and older have heart disease, according to the AHA.
Make Some Changes
According to the AHA, with the right information, education, and care, heart disease in women can be treated, prevented, and even ended. It takes effort, though, and probably some lifestyle changes:
If you smoke, stop
Get your blood sugar, blood pressure, and cholesterol under control
Find out if heart disease runs in your family
Get and stay active
Fuel your body with healthy foods
The Go Red for Women® section of AHA's website has helpful information and resources about what you can do to prevent heart disease.
Our Message to Providers
Child Care Aware® of America cares about you and the essential work you do. Many of you are women, and we urge you to take care of yourself – Not only for you, but for the children in your care. They don't want anything to happen to you. Plus, you can model some healthy behaviors for them including physical activity and nutrition.
If you wear red on February 3, share it on social media using @ChildCareAware and #GoRedWearRed.