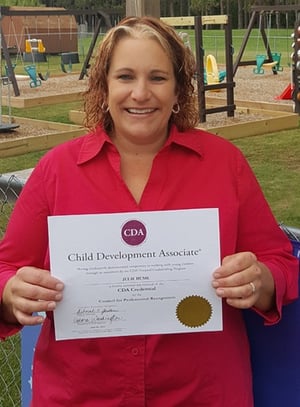 Arlington, VA – Child Care Aware® of America (CCAoA), National Association for the Education of Young Children (NAEYC), National Head Start Association (NHSA), and National Indian Child Care Association (NICCA) would like to congratulate Julie Hume and the staff at Kind Hearts Day Care in Princeton, Minnesota. They have been named Provider of the Month for January 2017.
The Provider of the Month campaign was launched in conjunction with Provider Appreciation Day on May 8, 2015 to honor outstanding child care providers and early childhood educators who exemplify what it means to be a quality care provider for children.
At Kind Hearts Day Care, Julie Hume and her staff provide a developmentally stimulating environment that promotes science, technology, engineering, and mathematics (STEM) in many different interest areas, inspiring creativity, problem solving, fostering positive relationships with peers, and critical thinking.
Hume began her career 22 years ago by providing home child care, but that changed quickly when she realized she loved it and wanted to make a difference in more children's lives; she wanted to offer a preschool experience that would reach vulnerable children and families. With the help of a Lakes and Pines Community Action Council Head Start partnership, she did just that! Her program reaches children of all demographics, prepares children for kindergarten, and teaches children everyday life experiences.
Hume and Kind Hearts Day Care encourage their children to be active in their communities through service projects including decorating the local library with stockings, writing and sending letters to wounded soldiers, and visiting nursing homes and assisted living.
Kind Hearts Day Care is also big on family engagement. Parents are welcome to come have lunch with their children. Kind Hearts also has an annual summer picnic, and they have a winter gathering with Santa Clause.
Hume earned her child developmental needs assistant diploma in 1996 and received her Child Development Associate (CDA) certificate in 2009. She plans to pursue a bachelor's degree in child development.
We're so grateful to exemplary providers Julie Hume and her staff – they're adding significant value to the development and overall health and well-being of the children in their care, and bringing added resources to a rural community.
Congratulations to Julie Hume and the staff at Kind Hearts Day Care! You can find out more about Kind Hearts Day Care via their website and Facebook page.
Nominate an Outstanding Provider
Do you know an outstanding provider or early childhood educator who is deserving of the Provider of the Month award? Visit www.providerappreciationday.org for details on how to nominate them, and help Child Care Aware® of America and partner organizations honor those providers that go above and beyond every day!
About Child Care Aware® of America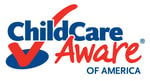 Child Care Aware® of America is our nation's leading voice for child care. CCAoA works with state and local child care resource and referral agencies (CCR&Rs) and other community partners to ensure that all families have access to quality, affordable child care. CCAoA leads projects that increase the quality and availability of child care, offer comprehensive training to child care professionals, undertake research, and advocate for child care policies that improve the lives of children and families. To learn more, visit usa.childcareware.org. Follow them on Twitter @USAChildCare and on Facebook at facebook.com/usachildcare.

National Association for the Education of Young Children
NAEYC's mission is to promote high-quality early learning for all children, birth through age 8, by connecting practice, policy, and research. NAEYC advances a diverse, dynamic early childhood profession and supports all who care for, educate, and work on behalf of young children. Learn more at www.naeyc.org.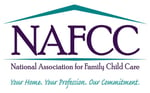 National Association for Family Child Care
The National Association for Family Child Care (NAFCC) is dedicated to promoting quality child care by strengthening the profession of family child care. NAFCC accomplishes this mission by strengthening state and local associations as the primary support system for individual family child care providers, promoting a professional accreditation program which recognizes and encourages quality child care for children, representing family child care providers by advocating for their needs and collaborating with other organizations, and promoting the diversity of the family child care profession. Learn more at www.nafcc.org.



National Head Start Association
The National Head Start Association (NHSA) is a non-partisan, not-for-profit organization committed to the belief that every child, regardless of circumstances at birth, has the ability to succeed in life. The opportunities offered by Head Start lead to healthier, empowered children and families, and stronger, more vibrant communities. NHSA is the voice for more than 1 million children, 200,000 staff and 1,600 Head Start grantees in the United States. For more information about NHSA, visit www.nhsa.org.

National Indian Child Care Association
The mission of National Indian Child Care Association is to unify tribes and tribal organizations to promote high quality culturally relevant child care and development. National Indian Child Care Association will provide leadership, support, and communication on behalf of Native American children, families, and communities. To learn more about NICCA, visit www.nicca.us or follow them on Facebook at facebook.com/nicca.us.

The Afterschool Alliance
The Afterschool Alliance works to ensure that all youth have access to affordable, quality afterschool programs. The mission of NAFCC includes increasing public and private investment in quality afterschool program initiatives at the national, state and local levels.

Teachstone
If you improve how teachers connect with students, children achieve more—now and for the rest of their lives. That's the promise of CLASS. Teachstone delivers on that promise by bringing CLASS observations and professional development solutions to organizations everywhere.