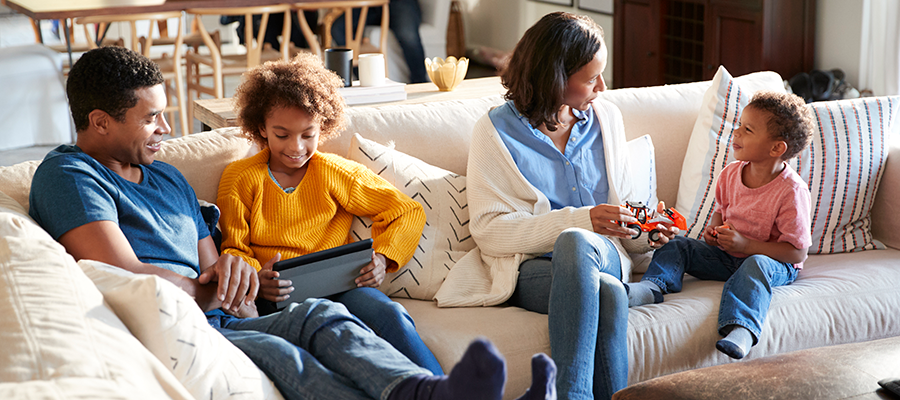 Without a doubt, families are an essential part of children's learning and educational journey - starting at birth. "Engaging families as partners early in the educational journey allows parents to establish strong home-school connections that support their children's achievement long-term "(Start Early, September 25, 2019). So, it is not surprising that "family engagement" is a frequent and important theme of discussions and planning in child care programs.
Early care and education professionals are typically strategizing and implementing ideas to engage families around children's early learning and development – from meeting with parents to set common goals to providing access to parent resources, from school-home communication to parent education events, and more. However, as the Coronavirus pandemic shook the world in early 2020, it left the child care system grappling with many uncertainties and challenges including how to engage and stay connected with families in the new norm of social distancing practices.
Meeting Families Where They Are
Thanks to a global initiative called Vroom®, child care programs can easily integrate science-based resources and tools for families into their formal family engagement plans. Because Vroom provides downloadable resources on early brain development and offers over 1,000 brain-building tips through a Vroom app, Vroom by Text™ and Alexa, it is simple for child care programs to share tools and information that support children's learning and development during everyday moments at home.
"I am excited to incorporate Vroom into the classrooms but also as an extension with our families." (Early Care and Education Provider)
Adapting Family Engagement to Virtual Times
If you are a child care program, below are tips for how you can share brain-building tools and resources virtually to engage and support families with young children. If you are an organization, you can share these tips in your outreach and services to child care programs. Here are more family engagement tips.
Tips for Enhancing Family Engagement with Early Brain Science
Embed a link to brain building resources on your program's website (ex. wearebrainbuilders.org and www.vroom.org).
Share brain-building tips through family engagement software, e-newsletters, website, and school to-home notes.
Share early brain science facts and discuss brain-building tips during virtual meetings and events.
Create a monthly calendar with Vroom Tips™ for each week.
Share brain building messages and tips on social media platforms for families.
Have a Vroom Tip™ contest for families who do tips at home.
"This has been such a great resource to encourage family engagement. It is now part of our family engagement tool!" (Child Care Resource and Referral agency)
Celebrate Family Engagement Month! November 2020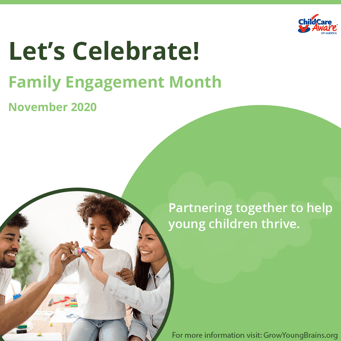 Join Child Care Aware® of America (CCAoA) to celebrate and elevate the importance of engaging families in children's early education and development throughout November. CCAoA has put together digital resources, inspiring messages, and tips that make it easier for child care programs to connect with families and engage families in children's everyday learning. Child care programs can quickly grab a digital resource to integrate into their family engagement and home-school communication efforts.
---
Resources
For CCR&Rs, visit: GrowYoungBrains.org
For Child Care Programs and Families, visit: WeAreBrainBuilders.org