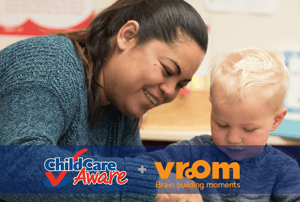 Vroom has been an exciting addition to the work we do at the Capital District Child Care Council. Children develop cognitively, socially, emotionally, and physically through play. By bringing VROOM to the Capital District area of Albany, New York, we were able to share the brain building benefits of play with the community we serve. It has allowed us to boost family engagement and provide information on the importance of relationship building, all while supporting the early years of a child's development.
What is Vroom?
Vroom provides interactive tools and resources that highlight the science behind early brain development, showing parents how they can turn everyday activities like bath time and meal time into opportunities that build their children's brains. The Vroom Partnership at Child Care Aware® of America is made up of ten Child Care Resource and Referral Agencies who educate and provide Vroom resources to families, providers, and organizations in their communities so they too understand the importance of brain development during the first five years of life. Learn more about Vroom here.
Sharing Vroom
Below are some of the ways we were able to share Vroom with the community:
Community outreach
Family workshops
Provider trainings
Community meetings
In addition to the above, one of the ways we reached a large population in our service area was through mailings. We mailed Vroom bookmarks to libraries, Vroom baby cards to hospitals and doctor offices, Vroom app cards to providers, and Vroom info cards to parents seeking child care.
One word that has defined our time as a Vroom Ambassador is COLLABORATION. Bringing Vroom to the Capital District has been a huge success in large part because of our joint work with so many of the community stakeholders. Through those partnerships and collaborations, the Capital District Child Care Council has been able to share Vroom with the Capital Region and beyond.

Child Care Aware® of America is bringing Vroom to Child Care Resource and Referral (CCR&R) agencies in 10 communities across the nation. Read more Vroom Ambassador stories here. Vroom resources are also available through our social channels @ChildCareAware.