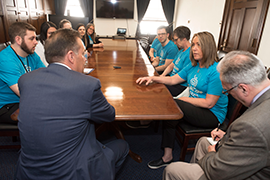 Today, Senator Bob Casey (D-PA) and Representatives Joe Crowley (D-NY) and Lois Frankel (D-FL) introduced the "Child Care Access to Resources for Early Learning Act of 2016" (The Child C.A.R.E. Act).
The "Child Care Access to Resources for Early Learning Act," would make a landmark investment in the Child Care and Development Fund that helps families with young children afford high-quality child care.
Access to high-quality child care and early education not only promotes a child's development, but it also helps support parents who are struggling to balance work and family. This legislation helps Americans meet the needs of their jobs and their families which ultimately bolsters and expands the middle class. A safe, nurturing environment that enriches children's development is critical to working families and is one of the best investments we can make in our economy. Yet today, a year of child care costs higher than a year of in-state tuition at most colleges – putting a significant strain on parents.
Specific provisions of the legislation will help:
Infants and toddlers who are living at or below 200% of the Federal poverty level (FPL), gain access to high-quality child care by FY 2021. In addition, this bill would help ensure both parents and child care providers have the resources they need to support early care and learning for children under age four by boosting the overall funding currently authorized under the CCDBG Act of 2014.
Child Care Providers would also assist child care providers by ensuring payment rates are set at a level high enough to support high-quality care for young children, and help infant and toddler providers in improving the quality of their programs by strengthening the skills of the workforce, and ensure that children receive comprehensive services by coordinating activities with other community service providers. In an effort to accomplish this effort, the legislation seeks to align the workforce requirements with the 2015 National Academies of Science report, Transforming the Workforce for Children Birth Through Age 8.
Quality of child care for all. In 2014, Congress acted on a bipartisan basis to pass child care legislation that includes much-needed reforms to improve the quality and safety in child care settings, including requiring training for providers to prevent sudden infant death syndrome, instituting annual inspections of child care facilities, and comprehensive background checks of all providers. This bill would provide the resources to help states implement those important reforms and support the expansion of access to quality child care programs staffed by early educators that can provide developmentally appropriate services that promote the healthy development and school readiness of young children
Tribes would also ensure that quality infant and toddler child care is a strong component of a continuum of quality early learning within states and tribes.
FAQ's
How Would the Funding Allotment Work?
This legislation would provide approximately $25 billion in new mandatory funding over five years.
States are the only eligible entity, and to receive funding, they must commit to maintain the caseload of children currently served under the existing CCDF programs, raise the quality of existing child care for children under age four, and expand access of services to all eligible children (ages four and under) by 2021.
The funding would be allocated based on the ratio of the state's population of children under the age of four at or below 200% FPL, relative to the national total. A state must apply for and provide matching funds consistent with the requirements under CCDF for all portions of new funding in order to receive an allocation.
How Would This Bill Affect CCDF FY 2016-2018 State Plans?
This legislation would require states to submit an amendment to its CCDF State Plan to the Department of Health and Human Services that includes a description of the following:
How the state will increase the number of quality child care slots for families at or below 200% of FPL with children under the age of four to ensure access to quality child care for all eligible families who need it by FY 2021;
How the state will improve the quality of child care for children under four;
How the state will maintain the current number of children served, including those over age four; and
How the state will establish the cost of quality care for children under four (and update it at least once every three years) to ensure that provider payment rates are sufficient to support high quality education, consistent with Head Start and Early Head Start's education and child development standards;
The state's needs assessment that includes addressing the needs of special populations, including populations that face barriers in accessing care;
How the state will establish a continuum of care from birth to kindergarten, and align infant/ toddler care with other early learning programs;
How the state will partner with other organizations to ensure children and their families receive comprehensive services similar to those provided in Early Head Start;
The state's parental engagement plan in children's early learning; and
How the state will collaborate with the tribal community.
How Would This Bill Expand Access to Quality Child Care?
The bill would mandate that states reserve at least 80% of the funds they receive for direct services (grants, contracts, etc.) to improve access to quality child care for children under age four. States must develop ambitious and measurable goals for increasing access to care, including increasing the number of children served, while ensuring payment rates are sufficient to support providers in meeting quality standards by 2021. These standards include:
Having credentials or degrees in early learning;
Operating during hours that meet the needs of working families;
Providing a high-quality learning environment (similar to Early Head Start);
Aligning with State early guidelines;
Parental Engagement; and
Partnering with public and private organizations to ensure children receive comprehensive services
How Would this Legislation Enhance the Quality of Infant/ Toddler Care?
Under the CCDBG Act of 2014, states must dedicate at least a minimal amount (9% by FY 2020) for quality care for infants and toddlers. The Child CARE Act would amend CCDBG and require States to set-aside at least 12% by FY 2021.
What About Early Learning Expansion for Tribes?
Native America tribes are eligible to apply for funds to expand access to quality, culturally and linguistically appropriate child care, enhance the quality of care, and align their early learning system. Tribes may apply for this funding via an amendment to their CCDF plans, and HHS will establish the requirements for what will be included.