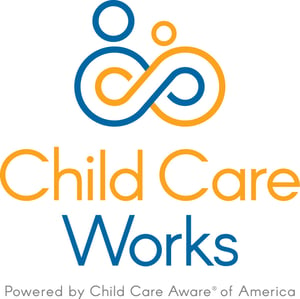 Arlington, VA – Child Care Aware® of America, the nation's leading voice for child care, is leveraging the growing pressure for positive change by launching a movement and giving it a name—Child Care Works. The goal of this grassroots initiative is to further escalate the need for a child care system that works for all American families.
Child care has become a major topic among policymakers this election season as presidential candidates continue to highlight the issue in their campaign platforms. Child Care Aware® of America will be partnering with child care leaders, parent and family advocates, and policymakers to ensure that child care remains a top priority this election season and once our new president takes office in January.
"Most parents in our country today either can't access high quality child care or can't afford it," stated Lynette M. Fraga, Ph.D., Executive Director of Child Care Aware® of America. "We want all parents to have quality choices and children to have quality care—care that is both a setting for learning and a support for parents to work or attend school," she stated. "Our goal is to improve child care through legislative victories, policy solutions, and shifting public opinion," Dr. Fraga concluded.
Child Care Works will be mobilizing advocates at childcareworks.org, a new microsite that will serve as the hub for information and resources on child care issues and legislation, and an advocacy center where constituents who 'join' the movement will be encouraged to sign the pledge to make child care affordable, ensure quality care for all, and support the child care workforce. There will be opportunities to sign online petitions and contact your elected officials' campaigns in support of child care issues.
Child Care Aware® of America has been advocating for quality, affordable child care for all American families for nearly 30 years. Working with our members, partners, funders, volunteers, advocates and friends, we celebrated the passage of the Child Care Development and Block Grant legislation in 2014, and have worked to help elevate the importance and prominence of child care as a national economic priority.
Child Care Aware® of America's annual report on Parents and High Cost of Child Care, our State Fact Sheets, and our various white papers on such topics as 'Child Care Deserts' inform policymakers on the critical impact that quality child care has on children, parents, communities, businesses and our economy.
"The time is ripe for a movement," said Dr. Fraga. "It's time we all work together to champion policy solutions to help support working families, and holding lawmakers accountable, so that child care becomes the national priority it deserves to be."
About Child Care Aware® of America
Child Care Works is a movement lead by Child Care Aware® of America. (childcareworks.org)
Child Care Aware® of America is our nation's leading voice for child care. CCAoA works with state and local Child Care Resource and Referral agencies (CCR&Rs) and other community partners to ensure that all families have access to quality, affordable child care. CCAoA leads projects that increase the quality and availability of child care, offer comprehensive training to child care professionals, undertake research, and advocate for child care policies that improve the lives of children and families. To learn more, visit usa.childcareaware.org. Follow them on Twitter @USAChildCare and on Facebook at facebook.com/usachildcare.