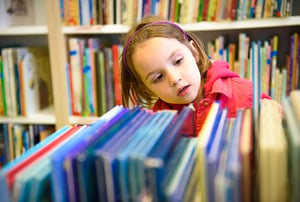 Every community is vulnerable to disasters: extreme weather, fires, chemical spills, the list goes on. Luckily, most have a local resource to help them prepare and respond to those disasters: their public library!
Libraries have evolved over time, no longer offering just books, magazines, and newspapers. Libraries today provide so much more: computers, internet access, training and help, community programs, office space for local government agencies, story time, etc. At the core of every library's mission is a commitment of service to its community. Trained staff, dedicated to improving the lives of their patrons with access to information, provide those services.
How can libraries help you and your organization?
Two articles in American Libraries, a publication of the American Library Association, highlight actions public libraries and librarians have taken in response to events:
"Providing Calm in the Chaos" (April 5, 2016) describes actions the Los Angeles Porter Branch library took in response to the gas leak of October 23, 2015. In addition to remaining open and providing regular services, they offered mediation and yoga classes for stress relief, information on the leak itself, financial information about relocation costs for people forced to evacuate their homes during the leak, and more.
"Libraries Respond to Recent Crises" (July 11, 2016) highlighted a different kind of community event, that of violence and protest. Libraries across the country provided information, social services, access to hotlines, lectures, and more, as coping resources for members of their neighborhoods affected by tragedies of shootings and violence.
There are numerous other examples:
People affected by Hurricane Katrina were required to submit forms to FEMA online. Because so many lost their homes or did not have a computer, libraries provided the computers and internet access, and librarians helped patrons complete the forms.
Don't underestimate the importance of electricity and charging stations! After Superstorm Sandy, public libraries in New Jersey offered a place for parents to charge their phones and computers, and complete online forms, while their kids attended story time or relaxed with a book or video.
Are you connected to your public library?
The libraries mentioned above were able to provide those services because they developed response plans before anything happened. In their daily activities, libraries collaborate with outside agencies, and have developed networks of partners to call on when disasters strike. Do you have ideas on how you can partner on outreach efforts before and after a disaster occurs in your community? Talk to your public library today and become part of the solution before a disaster strikes the families you serve!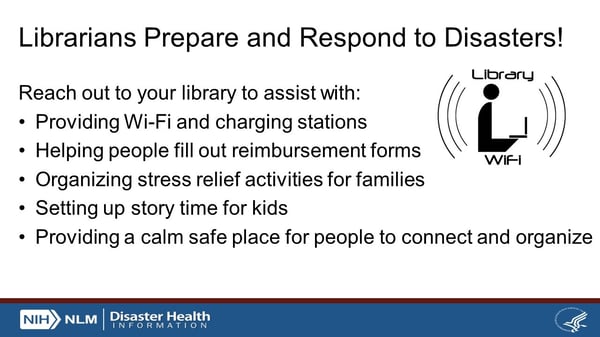 *This article was originally published in Kansas Child Magazine by the National Library of Medicine, Spring 2017 issue, Volume 16, Issue 2.
---
Robin Taylor, ICF contractor, is a librarian supporting the Disaster Information Management Center in the division of Specialized Information Services at the National Library of Medicine. Robin selects electronic resources about disaster health for inclusion in the Disaster Lit database, and provides communications support for the website, mailing lists, and social media.
Stacey J. Arnesen is the Chief of the Disaster Information Management Research Center in the Specialized Information Services Division of the National Library of Medicine, NIH. She has worked at NLM for 30 years, the last 12 years in the area of disaster information management. Her work includes the coordination of a number of tools and resources to improve access to disaster medicine and public health information including disaster health literature, tools and apps for hazmat and CBRN incidents as well as disaster information management research.
Siobhan Champ-Blackwell, Librarian, working at the National Library of Medicine Disaster Information Management Research Center is the Managing Editor for Disaster Lit®, a database of disaster medicine grey literature for first responders and receivers. Siobhan provides training and presentations on locating credible disaster health information and manages the external communication tools of the project, including social media.