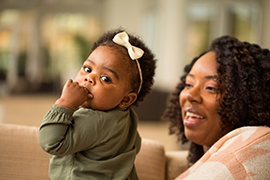 Last week in Washington, D.C., David Gray and Lisa Guernsey from the New America Foundation's Workforce and Family Program and Early Education Initiative, led a panel discussion entitled, "Speaking Up: What the Presidential Candidates Should be Saying about Child Care and Early Learning."
In looking at data from the Bureau of Labor Statistics (BLS), one thing about mothers with children is really clear: they are working in record numbers compared to 20, 30, or 40 years ago. While the workforce participation rate today is higher for mothers with school-age children (76.1 percent) compared to mothers with children under age six (64 percent) or mothers of infants (55.8 percent), the bottom line is that mothers are working and their income is essential to the support of their families and to this economy. Just how many working mothers is that? That's about 12.6 million mothers with children age 6-17 and another 8.1 million mothers with children under age six.
Despite the fact that so many mothers with young children are working today, there is no talk by the presidential candidates about the most critical factor that enables mothers to obtain and retain a job. Neither candidate has yet to talk about child care, about the importance of affordable, quality child care to ensure that mothers can work, which helps strengthen our economy and that while they work, their children are safe and in a setting that promotes their healthy development.
That's just wrong.
Nearly 11 million children are in child care today—on average for 35 hours a week. Child care is hard to find. It's even harder to afford. And, too often, the quality of child care that is available in communities is questionable. The forum sponsored by the New America Foundation heard from child care experts about the need for:
children to be safe in child care
quality child care to ensure that children are nurtured to promote their growth and development ultimately leading to their ability to succeed in later school years
understanding that turning schools around won't work without also focusing on the settings children are in during their earliest years
assistance for low wage workers so that they don't turn to welfare
Watch the New America Foundation forum.
Let the Presidential candidates hear from you. Ask them what they have to say about child care. Tell them working mothers are listening! Together we can make a difference!