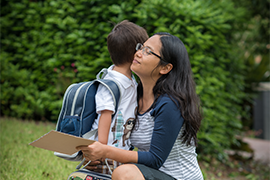 Early learning experiences are important to your child's education and development. You work hard to give your child the best experiences and a positive start. Someone else you can rely on to do the same is your child care provider. When you and your child care provider work together, you are giving your child a great start and providing her an excitement for learning.
What do you need to know about Kindergarten Readiness?
Working with your child care provider goes beyond practicing ABCs, 123s and coloring. You and your provider will work to prepare your child for school socially, emotionally, physically, and intellectually.
It is important to keep in mind that all children develop at their own rate. No matter what rate you child develops at, be sure to provide many opportunities for her to learn. Learning opportunities can include:
Reading together
Drawing/coloring
Practicing writing skills
Talking together
If you are concerned about your child's development, speak with your child care provider. You may also speak with your family physician. If necessary, you will be able to get your child assistance as early as possible.
The basics for going to kindergarten
Taking care of personal needs (using the bathroom, washing hands, and tying shoes)
List common objects around them (their name, family member's names, and toys)
Follow directions from an adult
Play with children in a small group
Show an interest in books and reading
Sing songs and recite nursery rhymes
Recognize some signs
Pretend to write
Assisting your child with the kindergarten transition
You and your child care provider know your child and this will help you to best prepare her for transitioning from child care to school. To help your child, you can:
Be excited about learning. If your child sees you happy and excited about the transition, she may become more excited as well.
Talk with your child about what to expect when she starts school. Discuss her feelings about starting school and the changes that will take place.
Visit your library to find books about starting school.
Get in to your school time routine. Starting a new routine and sticking to schedules will help your child transition from child care to kindergarten.
These changes can include adjusting bedtime and eliminating nap time.
You can talk with your provider about assisting your child in preparing for school by:
Talking about how Kindergarten will be different than child care.
Reading books about going to school.
Letting kids role play "school."
Letting older kids share stories about when they went to school.
Helping your child create a new picture for her new teacher.
Be sure to take advantage of any open house or family night that your child's school offers. This can allow both you and your child the opportunity to meet her teacher before the school year begins. Similar to staying involved when your child is in child care, you will want to stay connected during her school experience. Some schools offer the opportunity to be on a parent board. You can also volunteer in the PTA and maybe even spend time as a classroom assistant if your schedule allows. Working together with your child's Kindergarten teach will continue to provide her with a positive experience that will carry on through life.