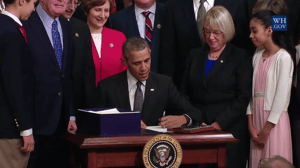 This morning, President Obama signed S. 1177 (Conference Report H 114-354), the "Every Student Succeeds Act," into law at a bi-partisan ceremony at the White House. The President was joined by Education Secretary, Arne Duncan, along with Senators Lamar Alexander (R-TN) and Patty Murray (D-WA), the senior leaders on the Senate Health, Education, Labor, and Pensions Committee, as well as Congressmen John Kline (R-MN) and Bobby Scott (D-VA) from the House Education and the Workforce Committee, and other key congressional members and advocates.
The signing of S. 1177 into law ends an eight year effort to replace "No Child Left Behind." In addition, it marks the end of Secretary Duncan's tenure at the Department of Education. Mr. Duncan, who announced his resignation in October, will officially step down on December 31st, and President Obama has named John B. King, Jr, the current Deputy Secretary, as Duncan's successor.
You may also view the legislation here.