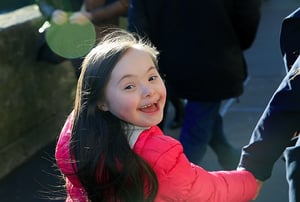 As I write this, we're a week into December and already the past month feels like an eternity ago! Our policy team was especially busy in November, though we had some other staff on the road before the holidays as well.
Around the Country
Child Care Aware® of America was well-represented at the National Association for the Education of Homeless Children and Youth Conference in Arizona – which is a fantastic organization working on state and federal policy and technical assistance (TA) to make sure all children and youth have the opportunity to learn and grow. Working on systems to ensure that homeless families and children have a chance to access quality, affordable child care and early childhood learning is one of the objectives of our new Public Policy Agenda for the upcoming legislative session, which I'll brag about a little later in this post.
Online and On-Air

We're pleased to share with you the new Public Policy Agenda for 2016 - 2017. This agenda is a product of the months of hard work on the part of our policy team and board committee, in conjunction with some of our partner organizations, but I'm sure you'll agree that we've come up with a list of priorities and goals that articulate our vision.
Member Connections
Kim Engelman, Senior Director of Family and Community Engagement, and Dionne Dobbins, Senior Director of Research, helped to establish the Research Advisory Group (RAG) last month. The RAG will be comprised of 8 members who will assist CCAoA with our research agenda.
If you know of a parent or family advocate, be sure to have them apply for the CCAoA parent scholarship application, which was just launched on November 24. Parents and families who would like to join us for Symposium 2016 for our advocacy day on the Hill and the Families at Symposium program can have their expenses covered if they are selected to join us in Washington, D.C. April 4-6.
Find more information on Symposium 2016 at http://usa.childcareaware.org/symposium2016.

And our Healthy Child Care, Healthy Communities program has really hit the ground running. Krista Scott, Senior Director of Child Care Health Policy, participated in the kick-off meeting for the National Center on Early Childhood Health and Wellness. Hosted by the American Academy of Pediatrics, the kick-off provided the 12 partner programs an opportunity to share their scope of work within the center. Child Care Aware® of America provided the group with an overview of the national perspective of Health and Wellness in childcare in addition to providing information on its role within the center.
We're so proud of the work our staff here do on a daily basis, and hope you are as well. They take their jobs seriously knowing how important quality child care is to families, providers, and the community as a whole.