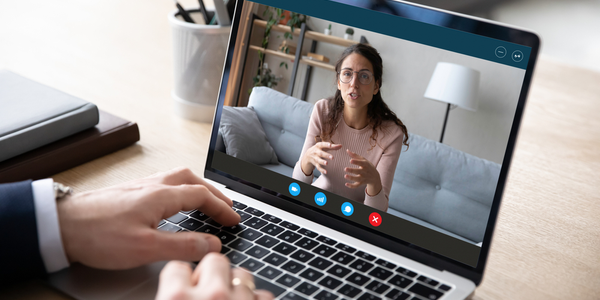 You can find the first two blogs here, and here.
In this third blog of our Virtual Coaching series, the focus is on how leaders can build a virtual coaching system that is both responsive to early childhood educator's and stakeholder needs, as well as sustainable in the long term. When implementing any new system there may be other elements of the day-to-day organization that need to change. Those changes are best implemented and sustained when they are supported by senior leadership and have buy-in from all involved. This includes funders, early childhood educators, coaches, supervisors, and technology staff that may be impacted as virtual coaching is put into practice. To build and promote a successful virtual coaching model some business policies and practices may also need to be re-examined, e.g., use of virtual platforms, confidentiality, equipment usage, staff time, and compensation. Updating these policies and practices can lead to successful planning and implementation, and ultimately result in the sustainability of the new program.
What should leaders consider?

Research tells us in order to get to implementation of any change, the program or organization must first examine their readiness and capacity for change. "Readiness", as defined in Measuring Readiness for Change in Early Care and Education (2019), is a characteristic of a person, group of individuals, or organization that captures at a particular point both the willingness and the capacity to take on a new practice or perform an existing practice in a new way.

"Capacity" of an organization means examining the available resources that can be dedicated to the implementation process, such as a well-trained workforce, knowledge and skills, physical space, ability to collect and use data, supporting policies, or other factors that can contribute to the successful implementation of new practices.

Organizational readiness, in particular, addresses readiness from varying perspectives of the organization's capacity to support change. An organization's capacity to support change includes the infrastructure, resources, and leadership support for the new practice, program, or project. It also includes employees' perceptions of the organization in terms of commitment and support for staff to make necessary changes for the implementation of the new project.

The primary question leaders should ask as they build a virtual coaching model is this: What do we need to address as an organization and team that will allow us to create and implement a virtual coaching system that is high quality, meets the needs of early educators, and improves the quality of care and education for young children.

Implementation Leadership

There are many well-known and successful approaches to putting new programs or initiatives in place, such as a move to virtual coaching. The approaches for planning and program implementation shared in this section give leaders examples to consider as they respond to the changing needs of the early care and education system. Any newly developed initiative or program should be planned to be inclusive, equitable, and successfully implemented in order to achieve desired goals and outcomes for early childhood educators, children, and families. Three approaches are highlighted below.
Plan-Do-Check-Act (PDCA) Steps

Plan


Identify needs and opportunities
Set your expectations
Define your basic plan to meet your needs and opportunities
Determine financial and personnel requirements and schedule

Do

Identify who is responsible and affected
Develop procedures and tools to fulfill objectives and meet the plan
Develop and provide training relevant to the plan and the people involved
Follow the procedures, processes, and tools

Check

Assess our performance
Determine if we met objectives and targets
Did things work as planned and as expected?
Identify any "root" causes
Determine corrective actions

Act

Determine what, if anything, needs to be changed
Identify specific adjustments
Determine if we stay with our current plan or if we want to take on anything else

1. Plan-Do-Check-Act (PDCA)

The PDCA approach was pioneered by Dr William Deming and can be used when starting a new improvement project or when developing a new or improved design of a process, product, or service. The Plan-Do-Check-Act cycle is a four-step model for carrying out change. Just as a circle has no end, the PDCA cycle should be repeated again and again for continuous improvement. The PDCA cycle is considered a project planning tool.

2. Implementation Science

One framework leaders may want to consider using to plan, build, and implement a virtual coaching model is Implementation Science (IS). Implementation is the process of moving an idea from concept to reality. Implementation Science is the study of the process of implementing programs and practices that have some evidence from the research field to suggest they are worth replicating. Leaders can use IS to effectively plan and implement new programs or initiatives as it has been found to be useful for moving through the change process. IS can be used to craft a newly defined vision or direction, or to address a crisis or new mandate. It can also be used when new data supports that a change is needed, or new information or research indicates a more effective practice is warranted.
"Implementation exists at the nexus between research and practice. Successful implementation is the mechanism by which young children and their families benefit from the practices and programs that research has identified as effective."

Metz, Halle, Bartley & Blasberg. (2013). Applying implementation science in early childhood programs and systems. P. 21.
Another set of frameworks is offered by The National Implementation Research Network's (NIRN) work on Implementation Science. This Network developed five overarching frameworks referred to as the Active Implementation Frameworks. Active Implementation provides a framework that assists an organization in responding to all factors required to successfully implement an action or change. The five frameworks of Active Implementation include the following:
Usable Innovations:

Evidence-based programs or practices that are teachable, learnable, doable, and readily assessed in practice.
Implementation Stages:

There are four Implementation Stages: Exploration, Installation, Initial Implementation, and Full Implementation, which are a set of activities that occur over time in stages that overlap and that are revisited as needed.

Additional information regarding each step can be found

here

in A Guide to the Implementation Process: Stages, Steps and Activities (2014).
Implementation Drivers:

Implementation Drivers ensure success through the development of relevant competencies, organizational supports, and engaged leadership. Leadership is foundational to Implementation Drivers.
Implementation Teams:

Teams provide an internal support structure to move selected programs and practices through the stages of implementation.
Improvement Cycles:

Implementation Teams use a cyclical approach to identify, problem-solve, and address barriers and improve implementation of the program or practice.
A visual representation of Active Implementation Frameworks which summarizes each of the five frameworks that make up Active Implementation is linked here.
A planning matrix in the appendix from an OPRE Research brief (2015) entitled, An Integrated Stage-Based Framework for Implementation of Early Childhood Programs and Systems, outlines key questions for each core elements throughout the four stages of implementation. The matrix can be used by practitioners and administrators to plan their stage-based planning and implementation process.
3. Getting To Outcomes® (GTO)The trademarks
"Getting To Outcomes" and "GTO" are jointly owned by the RAND Corporation and the University of South Carolina.
GTO is a user-friendly process for comprehensive planning, implementation guidance, and evaluation of programs and community initiatives. It is designed to help organizations run programs well and achieve desired outcomes. GTO is a ten-step process that guides the user through the key tasks needed to make a program a success. The GTO model focuses on ten steps describing activities required to obtain positive results. Though specifically designed as a model for prevention and intervention programs, the 10-step GTO model has been used in a variety of settings such as support training to improve family-school-community partnerships with the Carolina Family Engagement Center.
GTO is also a capacity-building intervention that assists organizations in incorporating the knowledge and skills of being strategic and data-informed into their practices. The 10-step GTO model is designed to be a best practice process—prescriptive, yet flexible enough to facilitate the development of any program. Although GTO started in 2004 with drug prevention, since that time, the toolkit has been applied to a range of areas. The 10 steps include:
More information on Getting to Outcomes can be found here.
Leadership Success
"On the path to success always lies big O's. Some read them as Obstacles, and others read them as Opportunities." Poh Yu Khing
In the book Your Leadership Edge, Ed O'Malley describes leaders as "people who understand how to tackle the most pressing, daunting, wicked challenges and are able to get the tough stuff done." He defines leadership as an activity that revolves around challenges and opportunities while mobilizing people to make progress. Leaders seize upon opportunities that rise before them and capitalize on those opportunities when they have a planning process that allows them to quickly take advantage of opportunities, address challenges, and rally others to bring about change and thrive through implementation.