As shared in the previous blog entitled "Virtual Coaching: Lessons Learned During the Pandemic," transitioning to virtual coaching required professional development providers to anticipate and prepare for the changes and adaptations needed to make the shift from in-person to virtual coaching. Issues such as new technologies, equipment, training, recruiting providers, and virtual platforms need to be considered to implement virtual coaching successfully.
The primary question that should be asked when planning the shift to virtual coaching is: what do we need to make this work? The following chart highlights the similarities and differences between virtual and in-person coaching that will help leaders make informed decisions about what is needed to shift to virtual coaching.
Specific questions which decision-makers should investigate fall under the consideration categories of Access, Affordability, and Accountability. In planning how to do things differently during the shift to virtual coaching, the questions which should be asked are: What is needed, who is needed, and in what way is it needed?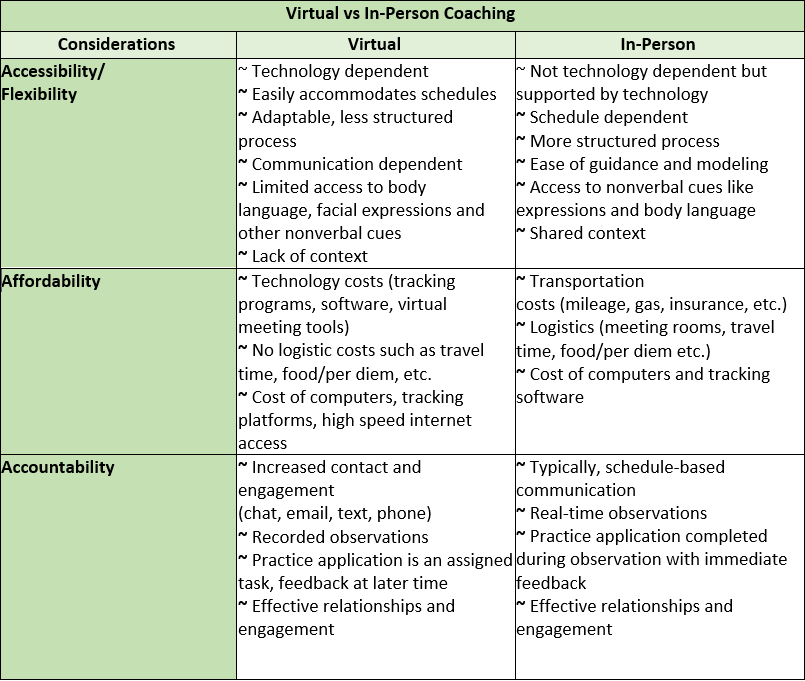 "Just because technology is changing the way we work, learn, and play, does not mean that traditional coaching tools we rely on are obsolete."
Stephanie Affinito, Literacy Coaching: Transforming Teaching and Learning with Digital Tools and Technology
Example questions include:
What technologies, equipment, and supports for providers and coaches are already in place to build upon in your agency?
What is the access to Wi-Fi or internet for both coaches and providers?
What is the access to equipment or other technology such as computers, tablets, or cameras?
What is the access to technology personnel or specialists?
What virtual coaching technology platform might be needed to document, track, house resources, and make exemplar videos available for providers?
What on-line tools will I need to foster engagement and offer peer learning opportunities?
What additional costs might be experienced in order to provide internet access, equipment, virtual coaching platforms, or personnel?
What training will be needed for both coaches and providers in order to be successful in accessing and using required technology or virtual platforms?
In order to design a cohesive virtual coaching model, the most important question to consider is how to structure virtual coaching to make sure it is providing the level of support needed for those being coached. The following examples showcase approaches that are being used to ensure that the level of support needed is provided.
ACCESS:
Formally assessing technology needs of staff and providers in order to plan effectively
Polling providers on internet access, broadband speed, and equipment.
Assessing the training needs of staff regarding learning platforms and technology usage
Providing mobile hot spots to boost provider broadband access.
Providing cameras to coachees in order to document practices.
Developing learning opportunities for coachees to engage with their peers via technology (such as communities of practice based on common goals, facilitated peer learning groups around common issues or concerns).
AFFORDABILITY:
Using the results of technology assessments to research low- or no-cost options to meet the technology needs of both coaching staff and those being coached. Determining costs and realigning the budget.
Investigating technology grant opportunities for long-term planning.
Investigating virtual coaching platforms for low- or no-cost options.
Hiring a part-time technology specialist familiar with coaching, virtual platforms, and networking.


ACCOUNTABILITY:
Providing tablets to coaches loaded with the coaching platform to use specifically for documenting goals, conversations, observations, as well as tracking progress
Using results of technology use, comfort, and access to develop training programs for staff and coaches.
Creating policies and procedures specific to virtual coaching, including use of equipment, privacy, platforms, etc.
When shifting to a virtual coaching model, focusing on these considerations is crucial. Virtual coaching may look and feel different as you begin planning but the end result is the same: quality care and education for children and families. As one coach shared, "virtual coaching doesn't limit my work or my effectiveness—it dramatically enhances both."