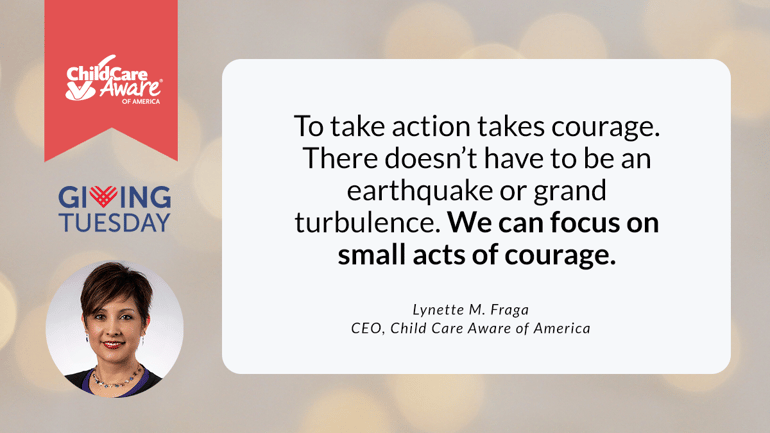 What are small acts of courage for child care? Why are they important and who can make a difference?
An advocate from Child Care Aware® of America's network is a child care provider and single mother whose small acts of courage are creating a better future for her own children and countless others in her community. After leaving an abusive relationship, she was a single mother raising three children on her own, when she applied for child care subsidies so she could go back to work. She spent over a year on the waitlist for a subsidy before she finally received the financial assistance she needed. With the help of this subsidy, she returned to work and to school, where she earned a director credential in early childhood education. Now, she is the owner of a family child care home, works as a registered nurse on weekends and is a passionate advocate for high-quality child care – all while raising her three children.
During the holiday season, donate to Child Care Aware® of America as your small act of courage for child care. Your tax-deductible gift is an investment in our nation's future – our children.
Small acts of courage add up. With support from generous donors like you, CCAoA makes a real difference for our nation's children. We do so by empowering and supporting the adults in their lives – their parents, child care providers and child care system leaders. These caregivers are essential to children's healthy development and to ensuring child care is a place where all children are safe, loved and excited to learn and play with one another.
This holiday season, your donation will support CCAoA's efforts to:
Elevate the voices of families and child care advocates.
Last year, our advocate network sent approximately

56,000 messages to lawmakers

about the importance of child care.

CCAoA spearheads a network of families, child care providers, system leaders

and other advocates to secure transformational investments in child care, including

$39 billion in relief funding as part of the American Rescue Plan Act passed in March 2021

. We are on the cusp of Congress passing the Build Back Better Act, which includes a groundbreaking

$400 billion for child care and early learning

.
Support the courageous heroes and workers at the front lines of our national security and economy.
CCAoA helps parents and caregivers find the care they need to return to and remain in our nation's workforce. In 2020, we made over

500,000 connections

between community members and high-quality child care resources and solutions.

Last year, CCAoA directly assisted approximately

30,000 military heroes and other families

in accessing high-quality child care.
Advance quality care practices by building the knowledge and skills of child care and early learning professionals.
In 2020, CCAoA's trainings and webinars impacted

over 50,000 participants

on topics such as child health and safety and emergency preparedness.
A groundswell of small acts can create the turbulence necessary for systemic change. Make your small act of courage today by donating to CCAoA in this powerful moment for child care to help us ensure accessible, affordable and high-quality child care for every child.