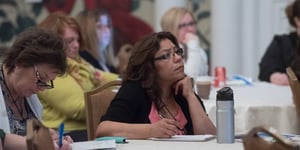 Spring is officially here! The trees are blooming, the days are getting longer, and the weather is beckoning for people to spend all their time outdoors. We were excited to see many of you who visited Washington, D.C. earlier this month for our biennial 2016 Symposium. For those who missed the event, video recordings and presentation materials will be available soon.
In addition to 2016 Symposium, the organization has been busy throughout the month of April. Below are just a few highlights.
Around the Country
On April 18-19 Lynette Fraga, Ph.D., Executive Director of Child Care Aware® of America, and Michelle McCready, Chief of Public Policy and Research, participated in Indiana's 2016 Child Care Resource and Referral Agency Institute – Celebrating the Past, Building the Future. Lynette provided a keynote address on "Building the Future – In Indiana and Across the Nation." Michelle spoke about "Building a Movement for Child Care and Early Education" and a recap on the #ChildCareWorks advocacy effort that took place during Child Care Aware® of America's 2016 Symposium.
Member Connections
As part of planned improvements to the Child Care Aware® website, two parent focus groups were held to gather important feedback about how to ensure the website meets the needs and expectations of families. The new Child Care Aware® website design will feature improved navigation and a better overall user experience. Launch of the new site is scheduled for the beginning of July.
The Parent and Provider Services Team continues to manage the Army Fee Assistance Program transition from the General Services Administration to CCAoA. The program officially launched with CCAoA on February 22, and we are currently accepting applications from Army families and providers. Phase two of the Army Fee Assistance Program transition has begun and should conclude next month. For the most up to date information on the transition, and to interact with other Army families, "like" the Army Fee Assistance at CCAoA Facebook page and follow them on Twitter. The Army Fee Assistance website will also continue to provide updates throughout the transition.
Online and On-Air
As many of you are aware, we launched a three-year strategic plan in January, which consolidated input from members throughout the CCAoA community, all of whom share our vision for a nation where all families have access to high quality, affordable child care. Strengthening CCAoA's National Data System (NDS) to be the nation's preferred data solution for child care is one of the priorities identified in our strategic plan. More than 5,000 Child Care Resource and Referral (CCR&R) agencies across the country use NDS to help families find child care, track the impact of training and technical assistance, and analyze and report on the supply, demand, cost, and quality of child care.
Our vision is to leverage NDS as a robust tool for Child Care and Development Block Grant (CCDBG) implementation efforts and to position NDS as the most comprehensive, user-friendly, and innovative child care reporting system in the United States. To learn more about this initiative, register for one of our upcoming webinars or visit our website.
In early May, CCAoA will be releasing a request for applications to our new training, technical assistance, and funding opportunity. The goal of the funding opportunity is to increase the capacity of Child Care Resource and Referral (CCR&R) agencies to serve as resilience hubs in their communities in the event of emergencies or natural disasters. In total, three communities will be selected from the following states: Arkansas, Iowa, Kansas, Minnesota, Missouri, Montana, North Dakota, Nebraska, Oklahoma, and South Dakota. The program will develop a train-the-trainer initiative for CCR&R staff and provide funding support to resource and referral agencies in working with both center-based and home-based providers.
A request for applications will be available after May 1 and will be posted on www.childcareprepare.org. Communities will be selected in mid-July, with projects beginning in late summer 2016. An informational webinar will also be conducted on May 11. Learn more and register today.
Our Emergency Preparedness Team is busy creating new tools, publications, resources, and training opportunities. In an effort to make these materials more readily available, CCAoA has developed an easy way for you to access emergency preparedness tools and resources through www.childcareprepare.org.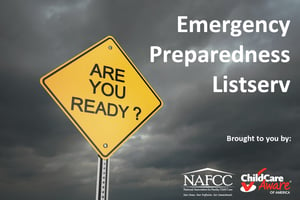 CCAoA and the National Association for Family Child Care (NAFCC) have established a new emergency preparedness listserv. The listserv will provide a forum for child care professionals from across the nation to explore current issues, share leading practices, request assistance, pose questions to the community, and share resources and ideas that are relevant and unique to child care emergency preparedness.
In an effort to understand the depth and breadth of our data capacity at CCAoA, we have invited staff who handle or analyze data from across our organization to participate in our new Data Team. As an organization, we would like to understand the various types of data being collected, by whom, and for what reasons. The Data Team, led by Dr. Dionne Dobbins, Senior Director of Research, and Fitzgerald Draper, Senior Researcher, will engage team members in developing a map of our data resources and tools and encourage efforts to collaborate across projects. In the coming months, look for new resources developed by our team and in partnership with other research organizations. In addition, our highly anticipated Annual Child Care State Fact Sheets will be released in the summer and will feature new data on school age care, emergency preparation, and family engagement.
ICYMI: April in the News
April was full of excitement and engagement. We hosted the annual Family Advocacy Summit, where more than 20 parents joined us from across the country. Parents were taught advocacy skills and shared their journey to child care advocacy.
As part of CCAoA's Day on the Hill, advocates stormed Capitol Hill on April 6 and asked their congressional delegations to co-sponsor H.R. 4524/ S. 2539, the Child Care Access to Resources for Early Learning Act of 2016 (the Child C.A.R.E. Act). If passed, this legislation would provide $25 billion in new mandatory child care funding through the Child Care and Development Fund (CCDF). As a result of these meetings, six House members signed on as cosponsors (10 total).
Building out the Team
We are pleased to welcome several individuals to the CCAoA team.
Fitzgerald Draper has joined the Family and Community Engagement team as a Senior Researcher and will be supporting the W.K. Kellogg Foundation grant project.
Cathy Wague joins the organization as Director of NDS Application Development, having supported the National Data system (NDS) for child care and overall IT department as a consultant for the past year and prior in leadership roles on staff supporting NDS.