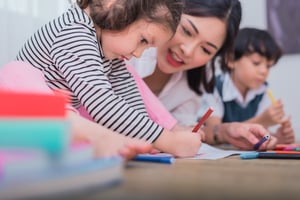 We're building a nationwide movement, a campaign to expand access to affordable, quality child care. Every week, nearly 11 million children are in some type of child care setting – on average for about 35 hours. Our studies show that the quality of child care varies greatly, not just between states but also within states—among different types of child care settings. Children should be safe while their parents work. Child care should offer an environment that promotes the healthy development of children. Policymakers at the state and federal levels call for all children to start school ready to learn. They call for reducing the achievement gap among low income and other children as well as between children of different races. They call for strategies to better meet the challenges faced by children with special needs. Most also call for increasing the high school graduation rate.
All of these goals have merit. But, to reach them, we simply can't ignore a child's earliest years and the settings young children are in. There is no magic wand to reduce the achievement gap and increase high school graduation rates. However, we can strengthen child care settings to ensure that more children start school ready to succeed.
The cost of child care is unaffordable for most families. If we are going to strengthen the quality of care, we need to design a better system to finance child care in this country.
Below are the top 10 reasons to join our movement. Any one of them alone is enough to unite. But, together, they paint a picture policymakers can no longer ignore. Join us and together we can make a difference!
Top 10 List
1) The annual cost of center-based infant care exceeds the cost of college in 36 states.
2) Eight states license or regulate child care without first conducting an on-site inspection.
3) Only 13 states require comprehensive background checks on staff hired to work in a child care center. A comprehensive background check includes a fingerprint check against state and federal records, a check of the child abuse registry and a check of the sex offender registry.
4) Only 11 states require a comprehensive background check on family child care home providers before granting a license.
5) Only 33 states meet all 10 health and safety standards in child care centers recommended by pediatric experts. Only 15 states meet them for family child care homes.
6) Fewer than half the states require child care providers to have training in early childhood development. In fact, training requirements vary greatly among the states and most states have weak minimum training and education requirements for child care providers.
7) Many states do not require child care providers to have a written emergency plan – either to evacuate when necessary or shelter-in-place (or "lock-down") in emergencies.
8) Many states do not conduct routine inspections of child care programs. In fact, California inspects child care centers only once every 5 years. Montana and Iowa inspect family child care homes only once every 5 years; Pennsylvania once every 6 years. Michigan only inspects family child care homes once every 10 years!
9) Only one out of every six children eligible for a child care subsidy receives assistance. And, nearly one-fifth of those children (about 322,000) are in unlicensed care (which has no training required and no minimum health and safety protections for children).
10) Eight states do not license small family child care homes (i.e, providers do not need a license until more than six children are cared for in the home). In South Dakota, 12 children can be cared for in a home before a license is required with the 13th child.
It's time for Members of Congress and State lawmakers to hear your voice. Join with us!