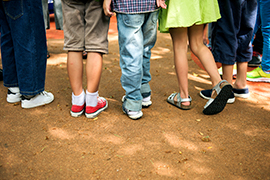 Nearly 11 million children under age 5 are in some type of child care setting every week – on average for 35 hours. The recent tragedy in Newtown, Connecticut, is a reminder that we need to review our nation's child care policies and practices to ensure that children are safe in child care settings.
Emergency Plans: Does your child care provider have an emergency plan, which includes some type of shelter-in-place or "lock-down" procedure in case a violent or unauthorized intruder tries to gain entry? Currently, only 15 states require such plans for child care centers. For family child care homes, does your provider keep outside doors locked when caring for children?
Access to Guns: Are guns allowed in your child care program? If so, are they required to be stored unloaded and locked away from children with ammunition stored separately? Currently, 26 states prohibit guns in child care centers. Another 13 states require controlled access (i.e., guns must be stored in a locked cabinet or stored unloaded with ammunition in a different location), and 12 states have no regulation pertaining to firearms in child care centers. With regard to family child care homes, 4 states prohibit guns, 41 states have controlled access, and 6 states have no regulation pertaining to guns in such homes.
The Newtown, Connecticut tragedy is also a reminder that the early years in a child's life are critical to healthy development (including a child's social and emotional development). One key component to community safety is the availability and provision of mental health services, even in the youngest years. The early identification of those who could benefit from early intervention services (particularly mental health services) could make a difference in their future overall development, with life-long consequences. There is still much we do not know about events and conditions that might have spurred the violence in Newtown, but what we do know is that child care settings should be safe and that early intervention in children's lives, especially those with challenges, can make a difference.
Early childhood developmental screening: Does your state require early screening of children before entry into elementary school to see if they could benefit from early intervention? (For example, is their vision ok? Is their hearing ok? Is their speech developing appropriately? Are there any indications of a developmental delay or behaviors that would indicate the need for mental health services)?
Training for Child Care Providers: Does your state require that child care providers have education or training in early childhood development? Or, training in meeting the needs of children after a traumatic event?
Background Checks for Child Care Providers: Does your state require a comprehensive background check for staff in child care centers and those who want to operate a child care program in their home? A comprehensive check includes a fingerprint check against state and federal records, a check of the child abuse registry and a check of the sex offender registry. Only 9 states currently require a comprehensive check for both employment in centers and family child care home licensing. Screening out those with a violent history helps ensure that children are safe in child care.
The Child Care and Development Block Grant (CCDBG), which sets the framework for state child care laws, does not require that any of these issues be addressed. As a result, state laws to protect children while they are in child care vary greatly.
Last month, President Obama asked Vice President Biden to lead an Administration initiative to reduce gun violence in our communities. The Vice President asked for recommendations from agencies throughout the Administration, the advocacy and research community, and others. Likely there will be some discussion about the safety of children in schools. Any initiative to promote the safety of children should include measures to ensure that children in child care are safe. Child care settings should not exist in a separate silo.
To read Child Care Aware® of America's recommendations to the Vice President, click here. In related news, on Friday, House Democrats formed a legislative task force to make recommendations for Congress to consider. As we learn more, we will let you know.
If you have policy ideas to promote children's safety and healthy development in child care settings, please share them with us! Email us at: learnmore@usa.childcareaware.org.