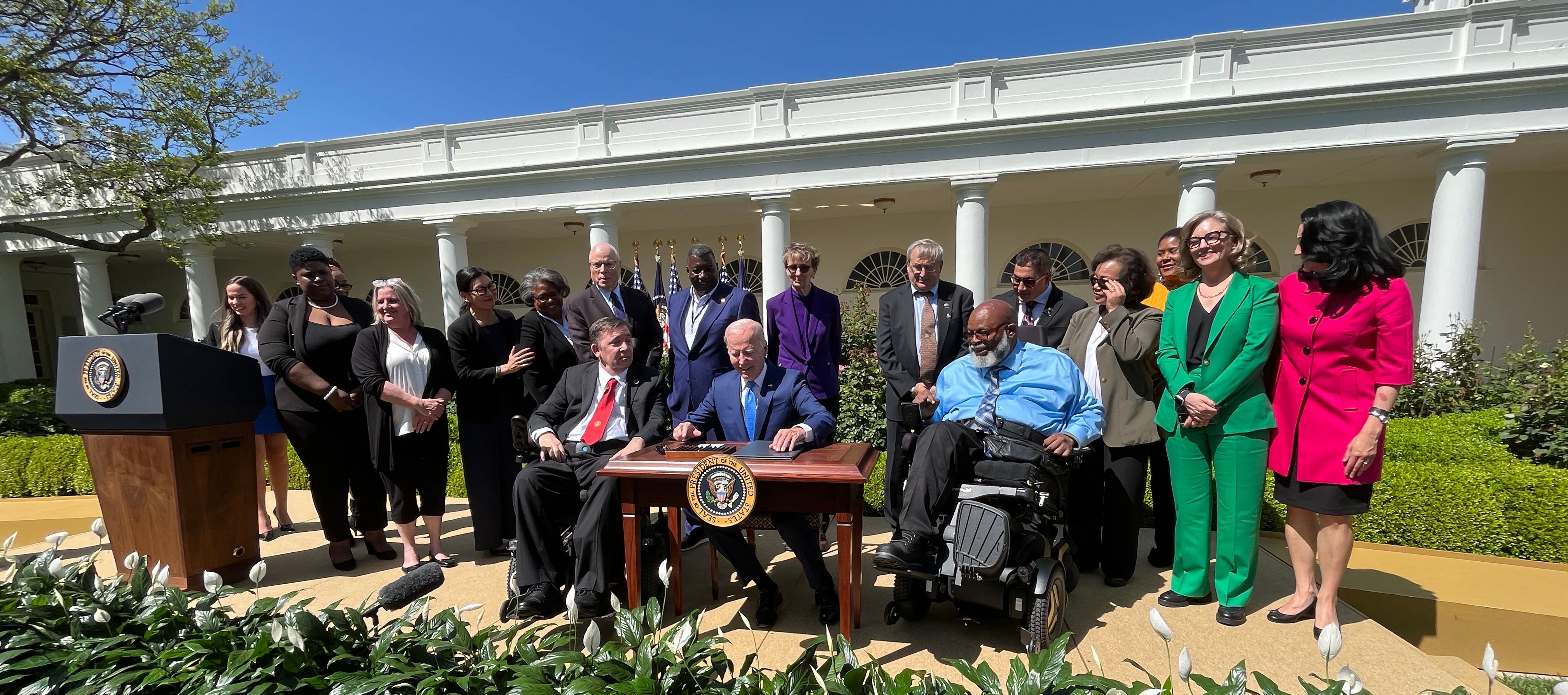 On Tuesday, April 18, 2023, President Biden signed an Executive Order (EO) that contains more than 50 directives to support child care, home-based care, family caregivers and long-term care. Child Care Aware of America attended the EO signing and celebrates the President's action.
The EO contains a number of initiatives, including -
To support the child care workforce:
The Department of Health and Human Services (HHS) will work to increase compensation and benefits for Head Start Staff and improve child care workers

'

access to health insurance.

HHS will expand mental health support for the child care workforce.

HHS, the Department of Education (ED), and the Department of Labor (DOL) will expand training pathways and professional learning opportunities, like community college programming, career and technical education

,

and Registered Apprenticeships.

DOL will publish best practices resources, such as sample employment agreements for domestic child care workers, to ensure workers know their rights.

DOL will work with community and local partners to expand culturally and linguistically appropriate community outreach and education efforts to child care workers.
Agencies will develop materials addressing the employment rights of non-citizen child care workers who are legally eligible to work.
To increase access to affordable, high-quality child care:
HHS will consider issuing regulations to reduce child care costs for families.

HHS will identify ways to eliminate barriers to eligibility for families to access subsidies or Head Start.

The Department of Defense will enhance recruitment and retention of the Department's child development program workers, improve child care affordability for service

members, and assess how child care costs impact the ability of the military to attract and retain its workforce.
All federal agencies will identify which funds can be used for child care as a supportive service for workers who are being trained for and working on federally funded projects.

All federal agencies will support federal employees who need access to child care by reviewing policies and expanding employee access to

f

ederal child care centers, child care subsidies

,

and contracted care providers.
To increase the supply of child care:
HHS will issue policies that would support child care providers and update payment practices to improve provider stability and supply.

ED will update a guide for schools and districts to expand high-quality early learning programming.
HHS and ED will identify and disseminate evidence-based practices for serving children with disabilities and their families in high-quality early childhood education programs, including Head Start.
To improve data and information on the care workforce:
DOL will conduct and publish an analysis of early childhood workers' pay in comparison to the pay of other workers with similar levels of training and skill.
DOL will help

s

tates and localities conduct their own analyses of comparable pay rates for care workers.
All agencies are charged with prioritizing engagement with parents, guardians, and other relatives with care responsibilities; state and local care experts; care providers and workers; employers; and labor unions.
Read the White House's Fact Sheet.
Read the full Executive Order.
Some changes will take time, like those that move through the regulatory process; other policy changes can happen quickly, like technical assistance and guidance.
Already, on April 20, 2023, the Office of Child Care (OCC) issued letters to Child Care and Development Fund (CCDF) state and territory Lead Agencies that they are considered out of compliance with the equal access provision of the Child Care and Development Block Grant (CCDBG) Act if their child care subsidy payment rates are set below the 50th percentile of their most recent market rate survey.
Learn if your state will need to make changes to their subsidy payment rates.
CCAoA will continue to track and engage in federal agency efforts following the President's Executive Order.
Stay in the loop by becoming an advocate.
Become an Advocate