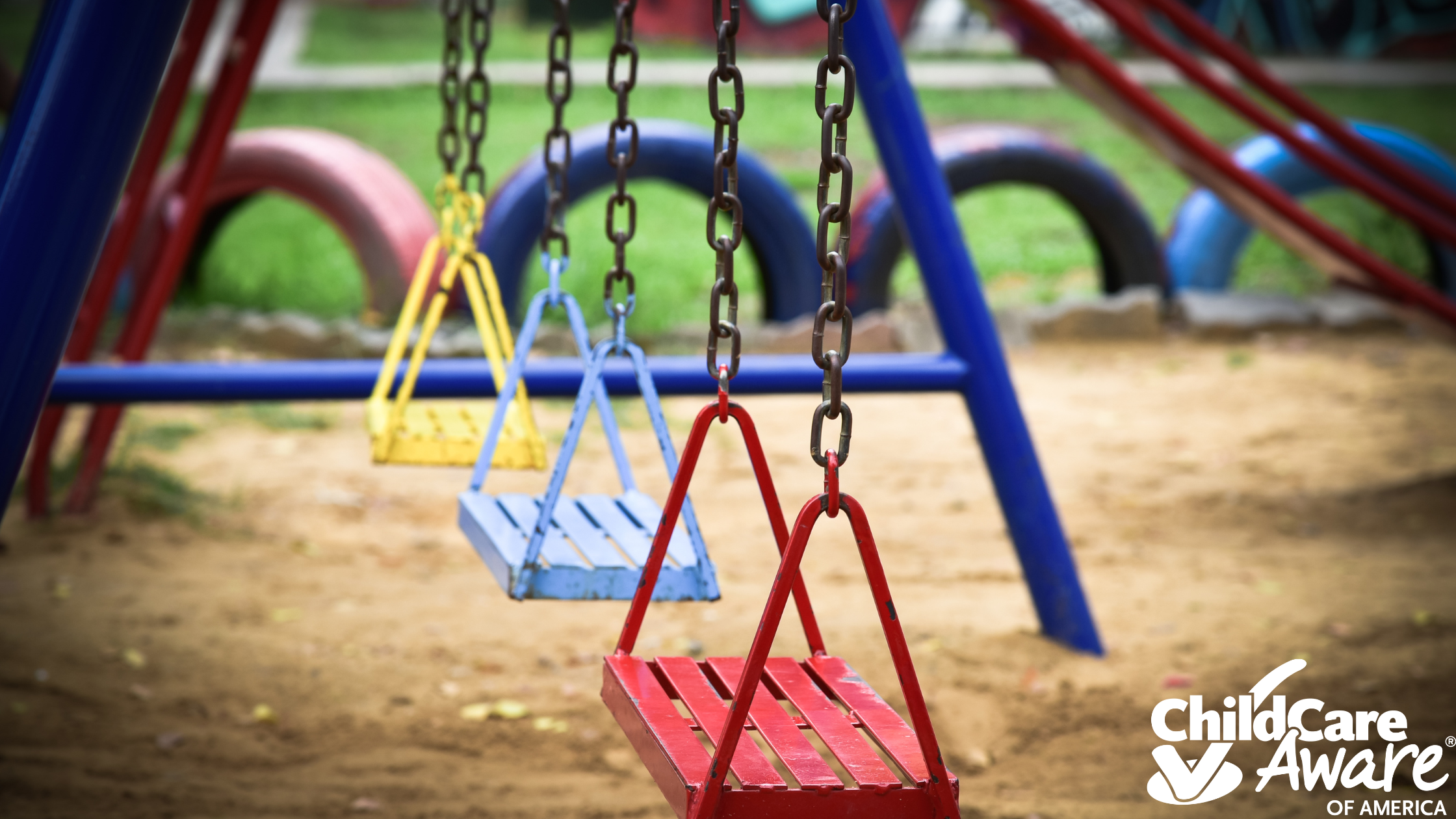 Physical play is an important factor in children's learning and supports their healthy development. Playgrounds provide spaces for children to be active, engage in imaginative play, socialize with peers and develop new skills. While public playgrounds and playspaces' safety and access can vary across geographies, too often playgrounds are scarce, and the quality of existing playgrounds could be better: frequently consisting of broken play components, outdated equipment or surfaces that should be replaced. A lack of quality play and exercise infrastructure can negatively impact children's mental and physical well-being. Furthermore, violence within and around parks can negatively impact children's access to public parks and play spaces.
To this end, Child Care Aware® of America (CCAoA) collaborated with KABOOM! to examine equitable opportunities for early learning and playspace access in Philadelphia, PA. Our resulting story map dives deep into these themes and has the potential to inform local stakeholder discussions regarding neighborhoods with the highest prioritization for new playspace installations.
One aspect of playspace equity we wanted to consider is child care providers' playground accessibility. In October 2022, the Early Learning Resource Center of Region 18 sent out a survey to child care providers in Philadelphia to gather information on their perceived access to outdoor playspaces. The purpose was to help provide context to the playspace inequity map.
The questions included:
Can you easily access an off-site outdoor playground or playspace with permanently installed equipment?
Do you have an outdoor playground or playspace with permanently installed equipment on site?
What barriers exist that prevent you from accessing outdoor playspaces?
Question 3 included additional choices for responders to select, such as:
Doesn't meet ECE standards/requirements

Too far away

Unsafe to walk or get to playground

Area around playground is unsafe

Playground equipment is old/unsafe

Playgrounds are not age-appropriate

Other (Please explain)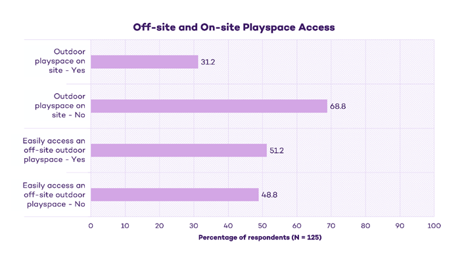 39.2% of the sample doesn't have access to either an on-site or off-site outdoor playspace that is permanently installed, indicating that a close-by playground installation would bring value to many child care providers. A total of 125 child care providers responded to the survey. While the response rate was approximately 8%, the exploratory results were still interesting and show the experience of a substantial number of child care providers in Philadelphia.
Safety was the most prominent barrier to off-site playground access: 44% of respondents reported the playground's immediate surroundings were unsafe, and over 42% said the same about the walking journey to and from the playground. These numbers jumped to just under 60% and 50%, respectively, for the 49 providers who also indicated they had no on- or off-site access. This represents a major challenge in enhancing playspace equity because it demonstrates just how complicated and intersectional communities are: other community conditions like crime and violence can render even the nicest and well-designed playspace unusable.
The distance from the ECE facility to the nearest playgrounds was identified as a significant barrier as well: nearly a third of all respondents listed this as a barrier, but that figure jumps to just under 60% for providers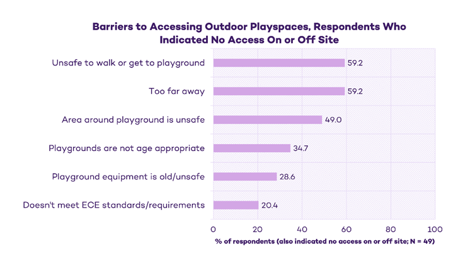 who say they don't have access to on- or off-site playgrounds. These numbers reinforce the results of the prioritization of neighborhoods in our playspace equity and neighborhood priority map. Only 50% of the providers in Philadelphia are, according to the map, within a quarter mile of the nearest playspace. And even a quarter mile (approximately one lap around a football field) is a long way for ECE teachers to walk with their infant and toddler students through the city.
Three main themes arose when we examined write-in data that expanded on participant responses. Respondents:
Identified concerns with who else would be present and using the parks and concerns around the impact of their behavior on the children in their care.
Expressed difficulty with the cost of installation of playground equipment.
Indicated that staffing prohibited safe transport to an off-site playground or watching children at the playground.
Both the map and this survey highlight the need for greater access to local public playspaces and the importance of community engagement to contextualize data-driven projects. Our collaborative partnership with KABOOM! was conducted through a unique mixed-methods story mapping approach that used both available data and on-ground local voices to inform equitable decision making. This methodology provides a roadmap for communities and organizations hoping to address early learning inequities by identifying spaces that should be prioritized when considering where to target investment initiatives. It will also directly help KABOOM! determine where to build a playspace designed to boost developmental outcomes and early math learning for Philadelphia's youngest children in a location accessible to child care providers, families and communities.