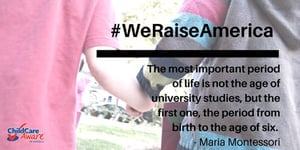 At Child Care Aware® of America we believe information sharing, advancing discussion, and taking action are critical to affecting positive change for our nation's children and families. We want to spark the conversation about early childhood and the future of our nation, which is what The Raising of America series and associated public engagement campaign are all about.
The documentary series The Raising of America takes us inside the brain and brings to life recent scientific research that reveals how early experiences, beginning in the womb and continuing through early childhood, can alter brain architecture and developmental trajectories.
Through the stories of families, we discover how the lack of paid parental leave and high-quality affordable childcare, stagnant wages and overcrowded housing, depression and social exclusion, and perhaps most of all the time crunch, too often undermine the efforts of parents and child care providers struggling to create the nurturing environments all children need to thrive.
We're also proud to highlight the work of Renee Boynton-Jarrett, M.D., Sc.D., pediatrician and Child Care Aware® of America board member. As a contributor to the series, Dr. Boynton-Jarrett adds her expertise on the importance of early growth and development as a precursor to future success, and as a member of our board, we're excited to have her breadth of knowledge
Screenings are happening all over the country – find one near you and join in the discussion, or host one of your own!
As child care providers and advocates we know how important our work is to the growth and development of America's children. So join in and share your thoughts with us on social media! We'll be following the hashtag #WeRaiseAmerica on Twitter to see what you're talking about.

Ask yourself: So how is it that children in the U.S. have worse outcomes on most measures of health, education and well-being than other rich nations? How can we do better?
Watch this short intro to the series and hear from some of the experts, including Boynton-Jarrett, who are advocating for more involvement in children's health and growth in their earliest years.
The Raising of America Trailer (11 min) from California Newsreel on Vimeo.