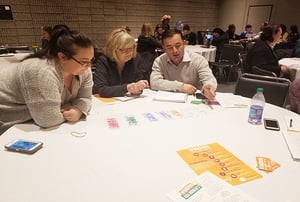 Vroom, in partnership with Child Care Aware® of America (CCAoA), continues to provide strong support and enrichment to the CCR&R community. CCAoA is excited to offer a full Vroom Track at Symposium 2018 this coming April.
What You Can Expect from the Vroom Track
Noted speakers include, Dr. Sarah Lytle, Director of Outreach and Education division at the Institute for Learning & Brain Sciences (I-LABS) at the University of Washington. Dr. Lytle will highlight the latest science on children's brain development raising our understanding of how the children in our daily care learn best and what we as adults interacting with these children can do to positively contribute to that growth.
Dr. Lytle's presentation will be followed by three other national Vroom leaders to continue the conversation and also speak to unique community outreach strategies they have found successful. Ari Wubbold, Vroom Coordinator at the Oregon Department of Education's Early Learning Division will collaborate with Devon Love, Vroom Activation & Help Me Grow Systems Manager with the Seattle-King County Public Health Department. They will be sharing what outreach strategies they've incorporated into their programs to inform and educate providers, parents, and families on how their interactions with young children contribute to the developing brain birth through age five.
Three Vroom Ambassadors will collaborate with facilitator/Vroom Ambassador Kandi Novak to highlight their two years of embedding Vroom science and resources into their existing outreach services. Tracy Pond, an ambassador from Child Care Aware® of New Hampshire in Nashua, New Hampshire and Renee Scholz, an ambassador from the Child Care Council in Rochester, New York, will hold a Q&A session where they will share their specific partnership efforts and respond to questions from the CCR&R field and prospective future Vroom activation sites for CCAoA.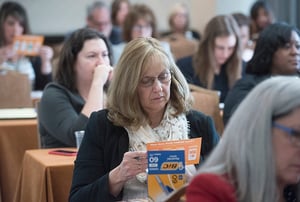 The Vroom Track concludes with a unique session focusing on a trending approach ­–human-centered design ­– analyzing and developing programs that effectively address local community challenges. This approach helps CCR&Rs clearly understand the reality of their community issues and develop creative yet accurate strategies for local community collaboration and outreach services supporting CCAoA's efforts to embed this latest brain science research into their existing outreach strategies.
Michelle Sucher with Design Impact in Cincinnati, Ohio, will engage participants in exercises to support understanding of human-centered design for community issues, identifying needs and imaging new ways to solve local issues through collaborative services and partnerships while discovering new solutions from multiple perspectives.
All four sessions are open to all conference participants. Come explore the latest in brain science and outreach strategies that enrich children, CCR&Rs and early childhood programs across the nation!