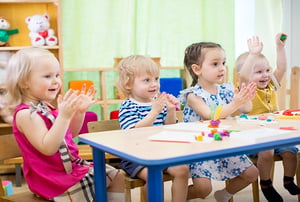 Child Care Aware® of America is joining the Healthy Schools Network and dozens of partners around the country to celebrate National Healthy Schools Day on April 3rd, 2018. For the past 16 years, National Healthy Schools Day has brought attention to the ways that school and child care environments can affect children's health. This year the focus is on lead exposure.
Lead is a dangerous toxin that affects the brain. The effects of lead on a young child's developing brain can be devastating. Lead poisoning in children can cause long-term problems with learning, attention and behavior. In many cases, the damage caused by lead exposure lasts a lifetime.
Every day, young children across the country are at risk of lead exposure at home, at school or in child care. It's found in old paint, dust, soil and water, particularly in buildings built before 1978 and the land where old buildings used to be. While child care providers operating in old facilities should take great caution to assess and remove lead hazards, all child care providers can inspect their establishments.
Take these steps to protect the children you serve
If lead hazards are found, or if you are doing any repairs or renovations to your facility, make sure to hire a Lead-Safe Certified contractor to do the work.
Keep your facility clean and dust-free.
Teach children to stay away from peeling paint and to keep non-food items out of their mouths.
Require all children over one year old to have an annual lead test and keep those records on file.
Provide regular developmental and behavioral screenings for all children to help identify risks early.
Serve healthy meals and snacks with lots of fruits and vegetables. Nutrients such as calcium, iron and vitamin C have been proven to help fight the long-term effects of lead exposure.
Educate parents about the causes of lead exposure, signs and symptoms of lead poisoning and where to turn to for help if their child shows signs of exposure.
On April 3rd, join educators and children's health advocates across the country to get the word out about lead poisoning. By protecting the children in your program from lead exposure, you are helping each one of them grow up safe, healthy and ready to learn.