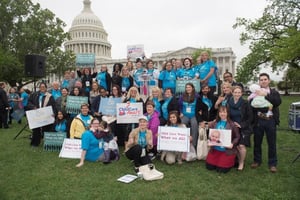 Many families struggle to find child care that meets their needs and high-quality programs are difficult to find and typically have long waiting lists. We believe that no child or family should have to choose between affordability and quality. So we continue our work in convening thought-leaders, advocating on Capitol Hill, and keeping our communities abreast of the issues and solutions. We are proud of the efforts of our family advocates, staff, child care providers and the entire child care community!
2017 was one of significant strides. But here's a list of the top 5 of the accomplishments of which we are particularly proud:
1. FOCUSING ON FAMILIES & COLLABORATING WITH COMMUNITIES
2. AMPLIFYING BY ADVOCACY
3. LEADING THROUGH LEARNING
4. REACH THROUGH RESEARCH
With all these awesome accomplishments, we still know there is a lot of work to do! Join us in making 2018 the best year yet.
For the latest information, you can also follow us on Twitter and Facebook.