Funding will power development of "Child Care Data Center" to streamline access, affordability and quality for families and providers through clear data
WASHINGTON, DC — Child Care Aware® of America (CCAoA), with support from a grant by the Robert Wood Johnson Foundation (RWJF), will develop and test a web portal to drive improvements in the supply, quality, and affordability of child care. The "Child Care Data Center" will allow advocates and policy makers to identify critical needs and inequities in child care access, quality and affordability. The initial investment continues an ongoing partnership with RWJF to provide quality data for the child care field to rely upon internally and between states.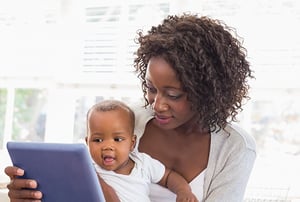 For 30 years, CCAoA has been the leading voice for quality, affordable child care in the United States. While CCAoA continues to pursue our vision of the future in which every family in United States has access to a high quality and affordable child care system, the sharing of accurate and updated information remains critical.
"Child Care Aware® of America is excited to be able to develop a repository for data related to child care in counties across the United States so we can gain a better understanding of what partnerships will help all children and families achieve access to affordable and quality child care programs--programs that will help build a culture of health across the country," said Dr. Lynette M. Fraga, executive director of Child Care Aware of America®. "When we understand the data better, we can identify systemic shortfalls and opportunities to strengthen programs for specific populations, resulting in a better picture of the availability of quality services."
The one-year-grant from RWJF will help CCAoA develop a one-stop-shop for information related to child care. CCAoA will standardize existing child care data as well as serve as a repository for many other data elements. The resulting database and web portal will make it easy for advocates and researchers to explore connections between child care access, quality, health, and community outcomes.
More than 11 million children under the age of five are in some form of child care in the United States. As the nation's leading voice for child care, CCAoA is comprised of 125,000 online advocates from across the country and more than 32,000 members. Over 250 parents have shared their stories with lawmakers through our Family Advocacy Summit and Day on The Hill. For child care providers, we offer trainings on emergency preparedness as well as technical assistance that emphasizes health, nutrition and obesity prevention and more.
To learn more about Child Care Aware® of America's advocacy efforts visit usa.childcareaware.org or follow us on Twitter, Instagram and Facebook using #ChildCareWorks.
# # #
About Child Care Aware® of America
Child Care Aware® of America is our nation's leading voice for child care. CCAoA works with state and local Child Care Resource and Referral agencies (CCR&Rs) and other community partners to ensure that all families have access to quality, affordable child care. CCAoA leads projects that increase the quality and availability of child care, offer comprehensive training to child care professionals, undertake research, and advocate for child care policies that improve the lives of children and families. To learn more, visit usa.childcareaware.org. Follow them on Twitter @USAChildCare and on Facebook at facebook.com/usachildcare.