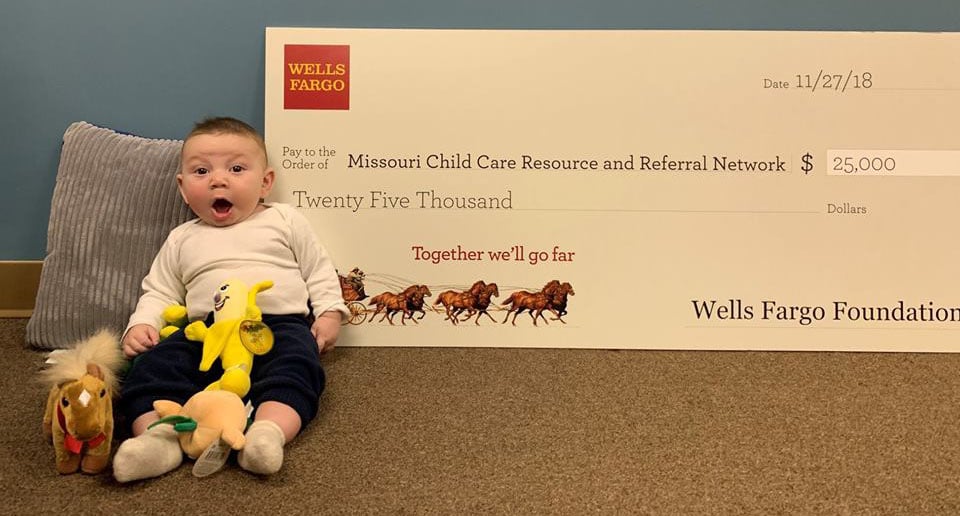 This year on Giving Tuesday, the unspoken "kick-off" to many holiday giving campaigns, Child Care Aware® of Missouri, decided to do something a little different. They threw their hat in the ring with over 160 other organizations, for a $25,000 Wells Fargo grant that focused on community building—and were one of 10 chosen grantees!
We spoke with Beth Ann Lang, Chief Program Officer at Child Care Aware® of Missouri, about the grant and what programs they will support with the funding:
How did you hear about the Wells Fargo grant? What was the application process like? What made you apply for this particular grant?
After reviewing Wells Fargo's pillars of interest, and "community wellness" was one of them, we decided to pursue the opportunity. For Child Care Aware® of Missouri, community wellness focuses on creating better practices and policies in to child care programs in order to impact the children, their families, the staff and the community. We described in our proposal how gardens in child care programs could actually have an impact in the community. It's not just about offering the children the math, science, physical activity and all of those wonderful pieces, it also is a way to encourage the children and families to try new things.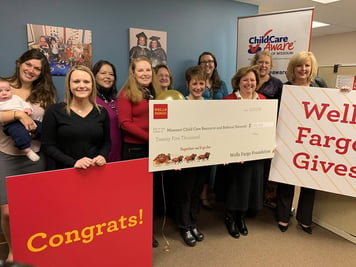 Our proposal was designed to fit into our current work with our campaign, "Taking Steps to Healthy Success," which is our health and wellness, early learning collaborative. Our project came from an opportunity from Child Care Aware® of America in 2013. We were then awarded a grant from Nemours and the CDC to help reduce childhood obesity by working with child care program. Our child care providers set up both long-term and short-term goals as it relates to this campaign, but often, those goals require more funding, to provide hands-on experiences like planting and gardens. We decided to write this grant to support gardens in a small number of child care programs currently participating in our "Taking Steps to Healthy Success" program.
Did you know how much competition you were facing before you were awarded the money? 160 applicants are a lot!
We did not. We knew Wells Fargo wanted to give out $250,000 on Giving Tuesday and 10 finalists would end up receiving checks for $25,000. We will invite these programs to participate in the garden opportunity closer to spring. Even though Nemours funding launched this project several years ago, we continue to use that opportunity and received funding from the Missouri Foundation for Health for a project called, "Healthy School, Healthy Communities." We received over $200,000 from them in 2018 for a 2-year grant to take "Taking Steps to Healthy Success" to more child care programs in the state. So, we just keep leveraging it.
What do you plan on doing with the $25,000?
Besides expanding our definition of R&R to include health and wellness initiatives, we are going to use it for our programs in "Taking Steps to Healthy Success" through the Missouri Foundation for Health's Healthy Schools, Healthy Communities and provide grants to participating child care programs in St. Louis. That won't happen until March or April of next year once the weather is more conducive. Applicants will have the opportunity to tell us if they want a vertical garden, a container garden, a raised bed in the back or whatever works for their space best. This is another way to help reduce childhood obesity, increase physical activity, and nutrition. Kids are much more apt to try food if they've grown it themselves. By also doing this, we will expand some of the families' horizons. We will be encouraging families to grow their own gardens and swap recipes. The children will also be writing stories about their gardens. This is just another way of making learning come alive.
What tips do you have for other CCR&Rs who may be considering applying for or looking for similar funding opportunities on Giving Tuesday?
Always keep your eyes and ears open and use all of your opportunities to network. Considering seeking out nontraditional partners and go to some of the networking events that wouldn't be in your typical wheelhouse. It never hurts to go out there and listen. Even if there's not an opportunity this year, it can give you an idea of when their next funding cycle is. I went to a celebration not long ago and just so happened to be sitting next to someone who is with a foundation. Even though we aren't asking for anything right now, it was an opportunity for her to know who I am and for us to share some personal stories to build that relationship. Relationship building should happen organically, but if you aren't there to create them, then it's a missed opportunity.
We don't have a massive budget for grant writing so we always have to get creative and innovative and know where we can take risks and what's worth our time. Had we not gotten the grant, it still wouldn't have been a waste of time because we had it written for other opportunities for funding. If you have the time, it's worth it. You have to broaden your lens or you're really going to narrow your possibilities.