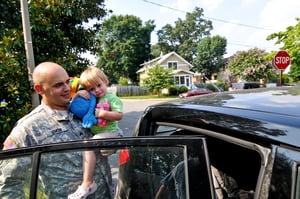 Our service members support and defend our country every day of the year, and they deserve to be taken care of in return – and that includes their children and families.
Child Care Aware® of America supports military families every day by running programs impacting more than 10,000 military children each year! The focus of CCAoA's programs include fee assistance programs, respite care for exceptional family members, and providing vital information families need about child care in their communities.
Sometimes supporting our troops is making sure their family is well-cared for when they're away from home – whether it's for a few hours, a few days, or months at a time.
We're proud to show our support of the United States military and their families for Military Family Appreciation Month and every month!