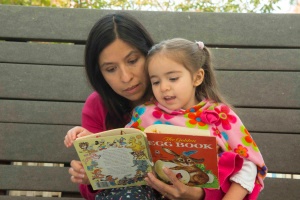 Fact: Reading even five books is enough to prevent a decline in reading achievement scores over the summer.
That's right – five books!
It's easy to slip into summer without thinking about school. After all, it's vacation time. But there are a few easy ways to work in a book. Or five.
Read as a Family

My favorite children's book is the classic, Goodnight Moon. I bought if for my son, my firstborn. And though he's now 12, it still sits in our house, worn from many readings (and a few teething chews).
My daughter and I still read together every night, too. She's 10. Sometimes we read an entry from one of my journals from when I was young. She sees my childhood handwriting and suddenly my words have meaning to her.
Steal our Favorites

I asked our staff to share their favorites, and why. Here's what they said:
"Growing up one of my favorite books was The Tale of Peter Rabbit by Beatrix Potter. I remember being fascinated by all the predicaments he found himself in. Ultimately he learned some lessons along the way! I also loved the drawings and pictures."
Debbie Taylor, Regional Military Child Care Liaison
"Three Little Kittens. Kittens who get to eat pie when their lost mittens are found. What's not to like?"
Theresa Klisz, Director, Editorial Services
"My little brother and I would to beg to hear Time for Bed by Mem Fox just one more time before bed. There's a page where the mother goose says to her gosling, 'Go to sleep little goose, little goose. The stars are out and on the loose!' And, while book itself has a tender closeness to it, there was a beauty about reading that together and imagining the stars before going to sleep."
Audrey Williams, Communications and Policy Intern
Ask the Experts
There are lots of resources to explore if you want to make developmentally appropriate picks for your children. You can always start with your child's teacher. Ask what books are going to challenge your young reader, but also keep reading enjoyable. Also try the American Library Association Library Services to Children. Here's their list of 2013 Notable Children's Books.
What's your favorite children's book? We'd love to hear it. Leave us a comment below!