Every week in the United States, nearly 11 million children younger than age five are in some type of child care arrangement. While all families with young children benefit from an awareness and knowledge of high-quality, affordable child care options that match their need for safe, healthy, and developmentally appropriate care, children from economically challenged and diverse families benefit even more monumentally from a high-quality child care environment. There are, however, many barriers for low-income and otherwise vulnerable families accessing care including preventable barriers such as the lack of knowledge of early care options.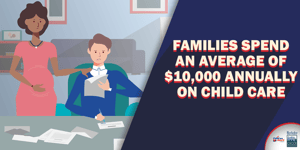 Image from this video created by
The Center for the Study of Child Care Employment at UC Berkeley and Child Care Aware® of America
Child care resource and referral (CCR&R) agencies are a fundamental link between the early care system and vulnerable families. However, we have learned that vulnerable families often rely on their own families, friends, and neighbors for information about child care, and many are not aware of the services CCR&Rs offer. Therefore, we seek to elevate CCR&Rs as a trusted resource families can turn to for early care and education information and support.
Given this significant need, Child Care Aware® of America (CCAoA) has created a new pilot opportunity for child care resource and referral (CCR&R) agencies. We encourage CCAoA member CCR&Rs to submit a proposal outlining their interest in strengthening the quality and reach of child care consumer information available to vulnerable families in their communities. Starting in March 2017, CCAoA will work directly with two CCR&Rs on a new four-month project to enhance the current child care information system through targeted messaging strategies and dissemination of meaningful and useful child care information tools and resources.
Please submit your proposals by 5 p.m. EST on Monday, January 23, 2017 though the online portal available. Each CCR&R chosen will receive financial compensation for participating in the pilot.
Questions about the process or the submission may be addressed to Dr. Kim Engelman, Chief of Family and Community Engagement at FamilyEngagement@usa.childcareaware.org or 703-341-4108.
This RFP is now closed.